Conference and Summer School on Chemoprevention
The international conference, "Frontiers in Cancer Prevention: Fulfilled Promises, Translational Challenges and Future Directions", will be taking place between 24-26 June 2015 in the University of Gdańsk's Faculty of Social Sciences.
The event is the result of the co-operation between universities in the Tri-City (University of Gdańsk, Medical University of Gdańsk, Gdańsk University of Technology, Polish Academy of Sciences) and in the USA (University of Pittsburgh, University of Oklahoma, University of Colorado).
The organizing committee is headed by Professor Dr hab. Anna Herman-Antosiewicz from the Department of Molecular Biology at the University of Gdańsk'sFaculty of Biology.
The object of the conference is the exchange of information and experience as to the current state of knowledge regarding the prevention of cancers, with particular focus on the role of diet.
Experts of undisputed international repute in the field will be sharing their experiences. These include Silvio De Flora (University of Genoa, Italy), Rajesh Agarwal (University of ColoradoDenver, USA), John DiGiovanni (University of Texas at Austin, USA), Shivendra Singh (University of Pittsburgh Cancer Institute, USA), De-Xing Hou (Kagoshima University, Japan), XiaolinZi (Chao Cancer Center, USA), Pier-Luigi Lollini (University of Bologna, Italy), Jan Lubiński (Pomeranian Medical University,Szczecin), AlicjaWolk (Karolinska Institute, Sweden). They will be presenting new molecular objectivesin the chemoprevention of tumours, as well as successes in immunoprevention and epidemiological data linking diet to the risk of cancer.
The event will be accompanied by a Summer School on Chemoprevention, during which young scientists will present the results of their research.
Conference site: http://cancerprevention.edu.pl
Translation: Magda Moran and Sean Moran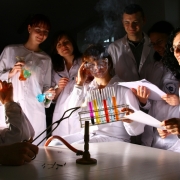 Last modified by: Krzysztof Klinkosz
Created by: Krzysztof Klinkosz
Last modified:
2015, June 15 - 10:16am
Post date:
2015, June 15 - 10:16am