The Baltic Game - Baltic Warriors 2015
The Baltic Game - Baltic Warriors 2015
Employees of the University of Gdańsk's Institute of Oceanography are taking an active part in the project "The Baltic Game – Baltic Warriors 2015" in the capacity of experts.
The project is an educational and cultural event, without precedence in Poland, which will take place on 22 June 2015 with participation from employees and students of the University of Gdańsk.
The main element will be a larp (live action roleplaying game), defined as a theatrical fantasy story or a cultural participation event, which could best be placed as an activity between a location-based game and interactive improvised theatre. The event in the Tri-City is one of a series in which representatives of seven different Baltic countries, divided into teams of activists, politicians, lobbyists, journalists and scientists, seek an answer to the question – What is stopping us from active co-operation for the sake of the Baltic, our shared sea? The aim of the game, as well as the related workshops and debates, is to confront companies which influence ecological policy and to present to ordinary people the problem of eutrophication in the sea, thus inspiring them into new ways of thinking and acting for the Baltic.
The Baltic Sea is one of the most polluted seas in the world, suffering, amongst other things, from the effects of eutrophication and related occurrences such as the 'dead zones' deprived of oxygen located on the sea-bed. This adverse eutrophication of the sea can be put down to the excessive use of artificial fertilizers which reach the Baltic via groundwater. Although the Baltic coast belongs to developed nations, the measures taken to halt the process of eutrophication still appear to be inadequate.
Eutrophication and the 'dead zones' are remote concepts incomprehensible to most people, which is why they will be replaced in the game by secret sailor-zombies who emerge from the sea to attack the city. The wish is that these long-dead warriors, preserved in the 'dead zones', will force the lobbyists, politicians and ecologists to work together in a way that has been absent from everyday life.
The larp, as well as the debate, are part of the international transmedia project "Baltic Warriors", produced by the company Kinomaton Berlin in co-operation with the Goethe-Institut. The organizers of the Tri-City event are the Nadbałtyckie Centrum Kultury and the Funreal Society of Game Producers, with partners such as the Institute of Oceanography of the University of Gdańsk. The final result of the project will be a documentary film scheduled to première in 2017.
Translation: Magda Moran and Sean Moran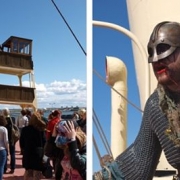 Last modified by: Andrzej Żurawik
Created by: Andrzej Żurawik
Last modified:
2015, June 24 - 10:16am
Post date:
2015, June 22 - 9:23am