New research wessel
Oceanograf – the University of Gdańsk's new research vessel has taken to the water. The launch was held at the Nauta Ship Repair Yard in Gdynia. The vessel was commissioned by the University of Gdańsk and built by the Nauta and Crist consortium.
The prototype catamaran has been fitted with specialist equipment for interdisciplinary research into nature and the environment of the Baltic Sea. Apart from its own laboratories, there are also observatories and a seminary room for students. These fittings make the Oceanograf one of the most modern vessels to fly the Polish ensign. Given the extensive range of research to be carried out (exploration of the sea-bed, plus bathymetric, chemical and geological research), it will fulfil the function of different types of vessels. It uses a twin-hull construction to minimise the angle of inclination, which is particularly important for conducting research at sea, since any unintended movement of the vessel may affect measurements. It is 49.5 metres long and 14 metres wide.
"Oceanograf is very important for the University of Gdańsk. Being so modern, it allows us to increase the quality of the research we conduct, which in turn opens new possibilities for the institution", said the Dean of the UG's Faculty of Oceanography and Geography, Prof. Dr hab. Waldemar Surosz.
It is the first such specialist research vessel to be owned by a Polish ship-owner, i.e. the University of Gdańsk. It will replace the current, obsolete vessel. Its economic speed will be 10 knots, with a maximum 2 knots higher.It is powered by 4 generators with a combined capability of 1300kW, which will also drive two stern azimuth thrusters and two bow PUMP-JET thrusters, as well as all the on-board instrumentation.
The vessel can carry a maximum of twenty people. It will sail the Baltic but other regions have not been ruled out. It has a range of 2,500 Mm at economic speed and can be deployed for up to 21 days. Its home port will be Gdynia. It has also been designed for fishing and with this purpose in mind, fishing equipment has been installed at the rear work area and a trawl winch will be fixed to the hull. A hold for fish with its own ice generator is also anticipated. The deck will also be capable of carrying a container with an underwater ROV vehicle, which can be taken aboard if the research programme requires it.
Translation: Magda Moran and Sean Moran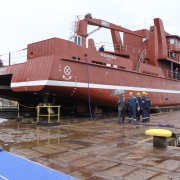 Last modified by: Andrzej Żurawik
Created by: Andrzej Żurawik
Last modified:
2015, June 29 - 2:46pm
Post date:
2015, June 29 - 2:09pm