6th International Weigl Conference on Microbiology
The 6th International Weigl Conference on Microbiology will take place between 8-10 July at the UG's Faculty of Social Sciences. The conference is organised by a team led by Prof. Dr hab.Grzegorz Węgrzyn, head of the Department of Molecular Biology at the UG's Faculty of Biology.
The conference covers a wide range of topics in microbiology, including issues related to environmental conservation, the food industry, agriculture, biotechnology and aspects of molecular and medical biology. The theme of immunology, most particularly vaccinology, links directly to Professor Weigl's main research area and therefore forms an important focus of the conference. Bacteriophages are another important subject, to tie in with the centenary of the discovery of these viruses.
The aim of the conference is to provide opportunities to present the latest achievements in microbiology and immunology, to exchange academic experience and to establish international contacts. An important task is to acquaint young researchers from various countries with achievements in microbiology on a global scale, to draw on the experience of top specialists in the field and to present the results of their own research.
The following sessions are planned as part of the conference: clinical microbiology and immunology, environmental microbiology, bacteriophages and plasmids, regulation of expression in the genes of prokaryotic organisms, replication, recombination and repair of genetic material, new methods in microbiology and a session of the American Society of Microbiology devoted to science policy.
Conference website: http://weiglconference.edu.pl
Translation: Magda Moran and Sean Moran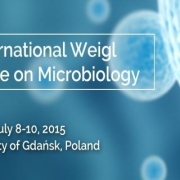 Last modified by: Andrzej Żurawik
Created by: Andrzej Żurawik
Last modified:
2015, June 29 - 2:36pm
Post date:
2015, June 29 - 2:14pm