Co-operation on new anti-cancer medicine
A project called "The Formulation of New Biomarkers and the Development of an Innovative Inhibitor of Fibroblast Growth Factor Receptors in Cancer Therapy" (CELONKO) will be carried out by a consortium of Celon Pharma, the Institute of Tuberculosis and Lung Diseases in Warsaw, the Military Medical Institute, the Oncology Centre-Maria Skłodowska-Curie Institute and the Medical University of Gdansk.
The project includes pre-clinical and clinical research to develop a new anti-cancer medicine directed at the fibroblast growth factor receptors which contain tyrosine kinases.
The Department of Molecular Enzymology, which is part of theUG's and MUG's Intercollegiate Faculty of Biotechnology, will carry out research with Prof Andrzej Składanowski and Dr Rafał Sądej into the function of FGFRs in cell lines from stomach and bladder cancers, as well as squamous lung cancer. One of the subsequent stages of research will be to test vulnerability and immunity to inhibitors and a selection of appropriate markers. The team also intends to develop a diagnostic test for identifying patients receptive to treatment with the method in question.
The total cost of the project over three years will be more than 54 million zloty, of which 39 million will come from funding from the National Centre for Research and Development, and almost 1.9 million from a Medical University of Gdansk subsidy.
Translation: Magda Moran and Sean Moran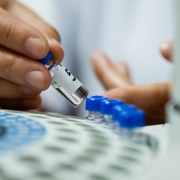 Last modified by: Andrzej Żurawik
Created by: Andrzej Żurawik
Last modified:
2015, July 16 - 2:30pm
Post date:
2015, July 16 - 2:20pm