Unknown novel by Marek Hłasko uncovered by UG student
Radosław Młynarczyk, a student of Polish philology at the University of Gdańsk, has uncovered an unpublished novel by Marek Hłasko, entitled Wilk (Wolf). The novel has caused a sensation in the literary world and has just been published by the Iskry Publishing House. Previously unpublished, the novel is the literary debut of the author of Piękni dwudziestoletni (Beautiful Twenty somethings) although it had to wait for 62 years to be published.
"This is certainly a unique piece, of such creative panache, detail in place descriptions and such with a multitude of characters that none of it can be found even in Israeli novels. The author's commentary, absent in all the other works, is also a distinguishing feature of the novel. The social realist elements, travestied here, are not without significance, either", says Radosław Młynarczyk in an interview entitled Marek Hłasko nosił różne maski (Marek Hłasko wore various masks) which can be read at Onet.pl.
Radosław Młynarczyk is one of the best students of Polish philology with editorial specialisation at the UG's Faculty of Philology. Working on Marek Hłasko's novel Wilk is also his diploma project. He has published in the monograph Nie-miejsca. Teoriespecjalne we współczesnych praktykach interpretacyjnych, Gdańsk 2014, and in such literary and scientific journals as: "Literaturoznawstwo", "Wyspa", "Bliza" or "Stolica" 2015. He was a 2014 scholarship winner of the Ministry of Science and Higher Education, winner of the UG Rector's scholarship during his second and third years of BA studies and his second year of MA studies, and a scholarship winner of the Stanisława Fleszarowa-Muskat Foundation in 2014. The same year he received the University of Gdańsk Rector's Award.
The Iskry Publishing House information on Marek Hłasko's novel Wilk:
"Wilkis a story of a boy from Marymont, growing up in the interwar period. Rysiek Lewandowski lives in a poor district. The lumpen proletariat circles are made up mainly of thieves and the unemployed, on the constant lookout for a chance to earn a few pennies. The young boy, influenced by Westerns, is looking for a noble pattern to follow in order to change the reality around him. He dreams of a better life, not really knowing what the "better" life should be like."
This year will see the publication of two version of the novel: popular and scientific. The first has been supplemented by ample annotations. The latter, in turn, with critical and editorial notes by Radosław Młynarczyk, apart from the novel itself also contains a historical and literary introduction which explains the origin of Wilk and attempts to makethe structure of the novelmore approachable.
Text: Dr Anna Malcer-Zakrzacka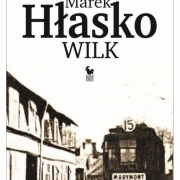 Last modified by: Andrzej Żurawik
Created by: Andrzej Żurawik
Last modified:
2015, September 1 - 1:27pm
Post date:
2015, September 1 - 1:25pm