Whale at the Hel Marine Station
Hel Marine Station employees have conducted a dissection on a whale found in the Bay of Gdańsk at Stegna beach. The research team is being headed by Dr IwonaPawliczkaVelPawlikfrom the Faculty of Oceanography and Geography.
The recovered whale has proved to be a male fin whale, 17.2 metres in length and weighing circa 23 tonnes. According to ArunasGrusasfrom the Lithuanian Maritime Museum, the whale was last seen alive by anglers on 7 August 2015, around 5 km from Klaipeda.
Hel Marine Station is planning to use the results of the post-mortem for further education and also put the preparedskeleton of the whale on display. They are currently searching for a cool storage location where the animal's bones could be kept until they find an expert to prepare them, and until sufficient funds are found to pay for this. The skeleton will be displayed beside the porpoise skeleton at the Dom Morświna (Porpoise House). The size of the animal is proving a bit of a problem, though, as the entire whale skeleton will be the same size as the Porpoise House. Fin whales are the largest whales and can reach up to 26 metres in length and weigh as much as 100 tonnes.
Current information on the progress of the team headed by Dr IwonaPawliczkaVelPawlikcan be followed on Facebook on the Dom Morświna profile.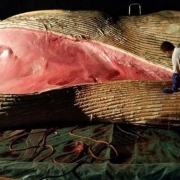 Last modified by: Andrzej Żurawik
Created by: Andrzej Żurawik
Last modified:
2015, September 2 - 8:02am
Post date:
2015, September 2 - 8:02am