You are here
Home
»
University
»
News
» "JANTAR" as a co-organiser of the 2nd All-Poland Polish Dance Tournament
"JANTAR" as a co-organiser of the 2nd All-Poland Polish Dance Tournament
The UG Song and Dance Group "JANTAR" is a co-organiser of the 2nd All-Poland Polish Dance Tournament for the Amber Sail Award. The tournament is due to take place on 12-13 September in Gdańsk Shipyard's historic BHP Hall.
In mid-September, the best dancers specialising in Polish dance will come to Gdańskfor the second time. They will be competing for first place in the krakowiak, kuyaviak, mazurka and oberek dances. The Gdańsk tournament is unique amongst other such events organised across the country in that it is the only one to be held in a place which does not have everyday connotations with sporting or artistic events. In order to stress the event's connections to Gdańsk and its history, the organisers have planned for the tournament to be held within the walls of the historic BHP Hall, where the August Agreements were signed.
The participants in last year's event, which attracted nearly 200 dancers from 18 centres across Polandto Pomerania, stressed that dancing under Solidarity banners and awareness of the historical dimension of the place was exceptional motivation. The audience had the chance to admire not only the high standards of the dance competition but also the accompanying artistic events, for example, the performance by the UG Song and Dance Group "JANTAR", co-organiser of the tournament.
This year the organisers have prepared many surprises for contestants and audience alike. The Polish Dance Tournament is an excellent chance to observe old traditions in modern form. The competition's formula draws on ballroom dancing tournaments, with qualified jurors, high dance standards, division into classes and categories, elegant costumes and spirited music. The main difference lies in the fact that instead of the foxtrot or waltz, the dances performed are the krakowiak, kuyawiak, oberek or mazurka.
The Mayor of Gdańsk and the Rector of the University of Gdańskare honorary patrons of the event.
The 2nd All-Poland Polish Dance Tournament will take place on 12-13 September 2015 in the BHP Hall in Gdańsk Shipyard, ul. Doki 1. More information at: www.bursztynowy-zagiel.pl.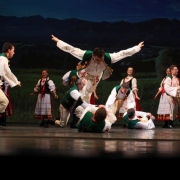 Last modified by: Andrzej Żurawik
Created by: Andrzej Żurawik
Last modified:
2015, September 9 - 2:08pm
Post date:
2015, September 9 - 2:08pm