Museum of Amber Inclusions at the AMBERMART 2015 Fair
The 16th AMBERMART International Amber Fair 2015 took place between 27-29 August. Over 200 exhibitors participated in the event, including, as always since the fairs began, the University of Gdańsk's Museum of Amber Inclusions.
This year's event included a new form of exposition of insect inclusions in Baltic amber, specially prepared in co-operation with Martą Konikiewicz M.A. from the University of Wrocław. Apart from these, visitors could also see inclusions with the use of a stereoscopic microscope, identify inclusions and gain precious of knowledge on the subject of insects encased in amber.
As always, amber and its inclusions drew in the Chinese although the museum stall also attracted visitors from Britain, the USA, Italy, Russia, Ukraine and Lithuania. Apart from Eocene Baltic amber inclusions, visitors had the chance to view Miocene Dominican amber inclusions as well as the hit her to little researched green amber from Ethiopia with ant or stingless bee inclusions.
During the AMBERMART 2015 FairDr Elżbieta Sontag conducted a class on "Organic inclusions in Baltic amber" as part of the Amber Course for Amber Merchandise Sales Personnel organised by the International Amber Association and simultaneously translated into English and Chinese.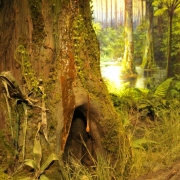 Last modified by: Gabriela Leoniec
Created by: Andrzej Żurawik
Last modified:
2015, September 10 - 5:08pm
Post date:
2015, September 9 - 2:10pm