Students to debate help in paying off Swiss franc mortgages
The Deans and Student Councils of the UG's Faculty of Management and Faculty of Economics would like to invite all students and employees to an Oxford-Style Debate.
The two teams to participate in the Debate will be made up of students of the Faculty of Management and the Faculty of Economics who will put forward their arguments for and against the following topic: Should assistance be made available to those with Swiss franc mortgages?
The Debate will be chaired by Jan Krzysztof Bielecki.
We would like to encourage everyone who wishes to participate in this opinion-forming event, influence the result or use the chance to present their views in the presence of experts, to assure themselves a place in the audience.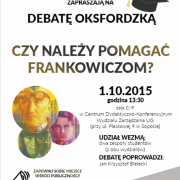 Last modified by: Gabriela Leoniec
Created by: Andrzej Żurawik
Last modified:
2015, September 10 - 5:09pm
Post date:
2015, September 9 - 2:13pm