Largest Event for the Polish Chemical Community
The Scientific Meeting of the Polish Chemical Society is the largest scientific event for Polish chemists. This year, the 58th Meeting will take place at the University of Gdańsk. We will be in conversation on Radio MORS with Professor Lech Chmurzyński, head of the organising committee, about the talks, meetings and discussions planned.
Between 21-25 September 2015 Gdańsk will host the 58th Scientific Meeting of the Polish Chemical Society. This will be the largest event for the Polish chemical community, with the University of Gdańsk hosting nearly 1,000 Polish participants and a large number of foreign guests.
The organisers have stressed the exceptional dimension to the Scientific Meeting being held in Gdańsk: "In its 1,000 years of history, Gdańsk has been famous for its love of freedom and civic liberties, and it is thanks to the wealth and wisdom of its rulers that it has always provided support to the development of science and culture. Valiance, freshness and, most importantly, freedom – such is the modern Gdańsk and such are Gdańsk's science and culture. For this reason, therefore, we would like the 58th Scientific Meeting of the Polish Chemical Society to be guided by the thought Polish Chemistry in the City of Freedom."
The Society's Scientific Meeting, the largest such event for Polish chemists, will provide an opportunity for the exchange of opinion and discussions between specialists from scientific institutions, including representatives of all leading academic centres and science institutes, those of the chemical industry and related industries and also chemistry teachers, undergraduate and doctoral students. Researchers will be discussing the application of chemistry in our surroundings and everyday life. They will talk about modern chemical technologies, new medication or the application of nanoparticles in the conservation of human health and the environment. The event's organisers hope that bringing chemists from many domains together in the city of freedom will result in many new ideas.
The 58th Scientific Meeting of the Polish Chemical Society 58 has been granted honorary patronage by President Lech Wałęsa, the Minister of Science and Higher Education Professor Lena Kolarska-Bobińska and the Marshal of the Pomeranian Voivodeship Mieczysław Struk.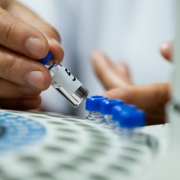 Last modified by: Andrzej Żurawik
Created by: Andrzej Żurawik
Last modified:
2015, September 21 - 9:38am
Post date:
2015, September 21 - 9:38am