Parallel International Conferences
Scholars as Fictionists, or On-/Off-Campus Creative Writing
'Pictures From an Institution': Academy Across Time and Media
2 - 4 October 2015
(conference languages: English, Polish)
gdanskconference2015@gmail.com
The beginning of the academic year 2015/2016, marked with the opening of a new building for the Faculty of Languages, University of Gdańsk, provides an excellent context for discussing the condition of the groves of Academe as well as speculating about the future of humanities scholars, scholarship and creative writing courses. The two conferences, held under the auspices of the Dean of the Faculty of Languages, Professor Andrzej Ceynowa, will allow their participants to attend parallel keynote lectures, round table discussions and fringe events. An art show dedicated to the works of Professor Stefan Chwin, along with an exhibition of literary and artistic books, will accompany the opening ceremony.
78 scholars from 32 universities will be in attendance. Local and international scholars-fictionists will be holding "Meet the Author" sessions.
Organising Committee:
Ludmiła Gruszewska-Blaim
Marta Koval
Wojciech Klepuszewski
Marta J. Łysik
Maja Wojdyło
Conference Volunteers:
Alicja Chmiołek, Monika Drzewiecka, Monika Feręc, Paulina Kamut, Aleksandra Kozłowska, Ewelina Pawłowska, Paulina Szugalska
Scholars as Fictionists, or On-/Off-Campus Creative Writing
Conference Focus
For humanities professors whose publications include works of fiction, collections of poetry, (screen)plays or comic books, the involvement in scholarship and education runs parallel to the process of creative writing preformed beyond campus and treated as pastime and/or another vocation. As scholars-fictionists and their literary works are discussed mainly in the context of dominant cultural and literary trends, the role of the university in their fiction-making is rarely given serious consideration. Given that literary achievement of university professors is distinguished by academicity (i.e. their expertise in histories and theories of literature, familiarity with the higher education system and academic publishing standards, etc.), the conference aims to provide a platform for discussion of interdependencies resulting from various forms of academic and artistic creativity. The conference will also focus on the future of creative/screenplay writing courses introduced into syllabi in a number of Polish universities.
'Pictures From an Institution': Academy Across Time and Media
Conference Focus
Scholars, scholarship and institutions of higher learning have constantly attracted the attention of fictionists. Idealized or satirized representations of the academy in literature and culture of previous epochs provided twentieth- and twenty first-century writers and filmmakers with convenient models from which to depart. As in the last decades, academics, especially humanities professors, have been forcefully encouraged to redefine their role by forming more 'flexible' attitudes towards teaching and research, their changing position in society has caused much comment in the mass media and found its reflection in literature and cinema. The main objective of the conference will be to discuss and compare textual—mainly literary and filmic—representations of the institution depicted as a nest of the (intellectually) Other.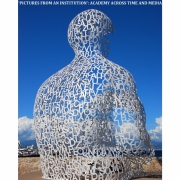 Last modified by: Andrzej Żurawik
Created by: Andrzej Żurawik
Last modified:
2015, September 29 - 10:52am
Post date:
2015, September 29 - 7:48am