You are here
Home
»
University
»
News
» Professor Jerzy Błażejowski elected Chairman of the Polish Chemical Society
Professor Jerzy Błażejowski elected Chairman of the Polish Chemical Society
Professor Jerzy Błażejowski from the Faculty of Chemistry of the University of Gdańsk has been elected Chairman of the Polish Chemical Society for 2016-2018 and will be the first academic from Gdańsk to have held this honourable position. PTChem authorities are elected every two years and the organisation's aim is to promote the development of the chemical sciences and to disseminate knowledge of chemistry in society.
The new authorities were elected during the Polish Chemical Society's All-Poland Scientific Meeting, the largest event for Polish chemists, with this year's 58th Meeting being hosted by the University of Gdańsk. During the Meetings, researchers focus, amongst others, on the application of chemistry in our surroundings and everyday life, discuss modern chemical technologies, new medication or the application of nanoparticles in the preservation of human health and the environment. The University of Gdańsk hosted nearly 1,000 Polish participants and a large number of foreign guests.
One of the events on the agenda was the election of PTChem's new authorities. Academic circles have bestowed their trust on Professor Jerzy Błażejowski from the UG's Faculty of Chemistry and elected him chairman for the years 2016-2018, with his term of office due to begin on 1 January 2016. It is worth noting that it is the first time a Gdańsk academic has held the position.
During this year's meeting, Professor Jerzy Błażejowski was also awarded the Medal of the Mayor of Gdańsk as a mark of respect and recognition as well as acknowledgement of his outstanding accomplishments in Polish science, and a Professor Wojciech Świętosławski Medal awarded by the Polish Society of Calorimetry and Thermal Analysis to recognise his remarkable achievements in the development of thermal analysis and calorimetry.
Professor Dr hab. inż. Jerzy Błażejowski is an outstanding specialist in physical and theoretical chemistry, thermodynamics and chemical kinetics, photochemistry and spectroscopy as well as environmental chemistry. He has served many prestigious functions: two terms as Chairman of the General Council for Higher Education and member of the President of Poland's Council on Education and Scientific Research as well as working on the team which prepared the Higher Education Law. Currently he is member of the Central Commission for Academic Degrees and Titles and the Convention of Disciplinary Officers with the Ministry of Science and Higher Education. He also holds membership in numerous chemical societies including the European Photochemistry Association, Polish Chemical Society, Gdańsk Scientific Society (which he chairs) and the Polish Ecological Club. At the University of Gdańsk he has been, among others, Director of the UG's Chemistry Institute and Dean of the Faculty of Chemistry. He has received numerous awards for his academic and organisational activity, including the City of Gdańsk's Jan Heweliusz Award for Scholarship and the International Confederation for Thermal Analysis and Calorimetry's "TA Instruments-ICTAC Award" .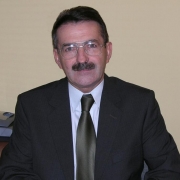 Last modified by: Andrzej Żurawik
Created by: Andrzej Żurawik
Last modified:
2015, October 5 - 11:04am
Post date:
2015, October 5 - 11:04am