You are here
Home
»
University
»
News
» Opening of the exhibition "Up Close: An Exhibition organised to celebrate the Year of Maths"
Opening of the exhibition "Up Close: An Exhibition organised to celebrate the Year of Maths"
"Up Close: An Exhibition organised to celebrate the Year of Maths" opened on 7th October 2015 in the main building of the University of Gdańsk Library. The centrepiece of the exhibition is an impressive 150-metre-long installation presenting the approximate value of π and made up of the first 600+ digits of π.
A selection of mathematical problems is presented with a pinch of humour in the form of "student notes". These refer to the Fibonacci sequence and the so-called golden section, fractals, the above-mentioned π, the achievements of Carl Gauss, as well as Ferrier's and Euler's primes.
The high point of the project is a multimedia presentation of the fascinating world of Maurits Cornelis Escher, who won world-wide acclaim for his graphic art in which three-dimensional forms, often based on mathematical inspiration, are depicted in ways which clash with our visual experience.
The exhibition is the work of Dr Katarzyna Wawrzynkowska, Katarzyna Dunajska MA and Dominika Skutnik MA. The UG's Mathematics Circle, under the expert supervision of Dr Jacek Gulgowski, selected the problems and provided some of the material. The installation, poster and invitation were designed by Dominika Skutnik.
The exhibition will be open until the end of the year.
(taz)
Translation: Magda Moran and Sean Moran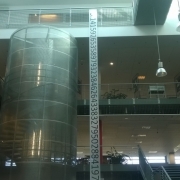 Last modified by: Tadeusz Zaleski
Created by: Tadeusz Zaleski
Last modified:
2015, October 12 - 12:34pm
Post date:
2015, October 12 - 12:29pm