Beauty of Mathematics – an exhibition of art
Exhibition of works of art inspired by mathematics
We warmly invite you to view an exhibition of works of art inspired by mathematics, to be held in the UG Faculty of Mathematics, Physics and Informatics building (Gdańsk, ul. Wita Stwosza 57).
The opening ceremony of the exhibition of works inspired by mathematics by students and staff at the Art School in Gdynia, prepared to mark the Year Of Mathematics in Pomerania, will be held on Thursday, 17 December 2015 at 11.30 a.m.
We extend an invitation to all those interested. The works can be viewed until 29 February 2016 during the building's opening hours. Information on the event is available at the site of the Year of Mathematics in Pomerania.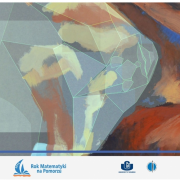 Last modified by: Andrzej Żurawik
Created by: Andrzej Żurawik
Last modified:
2015, December 17 - 7:46am
Post date:
2015, December 17 - 7:46am