Gdańsk philologists recognised
Dziennik Bałtycki has decided to honour the passions of people from Gdańsk, Gdynia and Sopot and has announced nominations for the 2015 Personality of the Year. Among the 24 people, or more precisely personalities, nominated from Gdańsk, is Professor Dr hab. Jerzy Limon from the Institute of English and American Studies and Director of the Gdańsk Shakespeare Theatre "for the theatre's successful and varied first season".
Ein Deutsches Tagebuch by Professor Stefan Chwin, a selection of texts from Pages from a Diary and A Journal for Adults, has made the list of the ten best books of 2015 published by the German weekly Die Zeit.
Dr Anna Malcer-Zakrzacka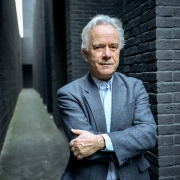 Last modified by: Andrzej Żurawik
Created by: Andrzej Żurawik
Last modified:
2016, February 2 - 10:56am
Post date:
2016, February 2 - 10:56am