You are here
Home
»
University
»
News
» Dr hab. Tomasz Puzyn, prof. UG has been nominated by the Polish Ministry of Science and Higher Education to represent Poland in the short-term expert Task Force on Safety of Nanosciences, Nanotechnologies and Advanced Materials
Dr hab. Tomasz Puzyn, prof. UG has been nominated by the Polish Ministry of Science and Higher Education to represent Poland in the short-term expert Task Force on Safety of Nanosciences, Nanotechnologies and Advanced Materials
At its last meeting in March 2016, the High Level Group of EU Member States and Horizon 2020 Associated Countries on Nanosciences, Nanotechnologies and Advanced Materials decided to set up short-term experts Task Forces in order to discuss the main bottle-necks to bridge the gap from the research to the market, as identified by the engineering and upscaling cluster in 2015.
The four Task Forces will cover the following topics or bottle-necks:
Characterisation (incl. standardisation)
Pilots
Modelling (transfer to industry)
Safety.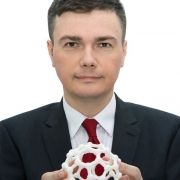 Last modified by: Tadeusz Zaleski
Created by: Tadeusz Zaleski
Last modified:
2016, May 4 - 11:49am
Post date:
2016, May 4 - 11:48am