You are here
Home
»
University
»
News
» Prof. Jerzy Limon Dziennik Bałtycki's 'Person of the Year 2015'
Prof. Jerzy Limon Dziennik Bałtycki's 'Person of the Year 2015'
Professor Jerzy Limon from the Institute of English and American Studies at the UG's Faculty of Languages has been named 'Person of the Year 2015' by the Dziennik Bałtycki. He was nominated for creating and heading a dynamic and important cultural institution in Pomerania, the Shakespeare Theatre.
As part of his acceptance speech, Professor Limon read out a "Treatise on the Person of the Year", written by himself, which contained a list of names of all the people who work in his theatre. "These are the 'People of the Year', those employed at the theatre who brought it to life. I would like to dedicate this honorary title to all of them, while I am just a delegate," he said on collecting the award. "The award goes to the entire close-knit and dedicated team, so involved in what they're doing. These people are not working because they have a job and a salary but because they love what they do. For the team this award is an acknowledgment of their efforts. I am extremely delighted that our work has been noticed because heading a theatre is no mean feat, not only from the financial and organisational but also from the technical side. We have productions coming to us with a host of different technical expectations", he added.
Professor Limon is an English philologist, writer, theatrologist and translator. Corresponding member of the Polish Academy of Arts and Sciences, member of the Polish Writers' Association and the Polish Society of Authors and Composers as well as numerous scientific associations. A grant-holder from Humboldt and many other foundations. Co-founder and Chairman of the Theatrum Gedanense Foundation. As a result of extraordinary perseverance, consistency and support from many benevolent individuals, he managed to create a unique Shakespeare Theatre in Gdańsk. Employee of the University of Gdańsk since 1980, he lectures in both Polish and English, is co-founder of the Management of Artistic Institutions course and is current Head of the Department of Performing Arts at the Faculty of Languages of the University of Gdańsk. Author of many books and academic articles, for which he has received numerous awards.
The award ceremony took place on 6 June 2016 at the Shakespeare Theatre during the '71 Years of the Dziennik Bałtycki ' Gala.
'Person of the Year' is the Dziennik Bałtycki's most important award, and the most prestigious title to be awarded since 2001, presented by an 18-person Committee made up of representatives of science, culture, business, local government and the media. The title 'Dziennik Bałtycki's Person of the Year' is awarded to the person whose involvement in the life of the region and achievements of the previous year have made Pomerania famous, and whose competence, rectitude and integrity have made them a role model.
UG's Press Team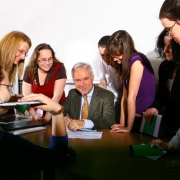 Last modified by: Tadeusz Zaleski
Created by: Tadeusz Zaleski
Last modified:
2016, July 4 - 8:34am
Post date:
2016, July 4 - 8:34am