University of Gdańsk Student wins ABB IT Challenge
A group of students, including Agnieszka Kolasińska, a student of Neuropsychology at the University of Gdańsk, took first place in the ABB IT Challenge by designing an application to ease the process of learning. The team of two, the other being Kamil Pociot, an Informatics student from the UMK in Toruń, won the challenge and beat several other teams from all over Poland.
ABB IT Challenge is an annual technology competition organised by the ABB Automation Technology Corporation (ISDC). It puts special emphasis on teamwork, innovative thinking, and technical skills in designing solutions for people's real needs and in presenting plans to turn concepts into reality.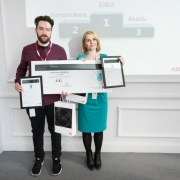 Last modified by: Tadeusz Zaleski
Created by: Tadeusz Zaleski
Last modified:
2016, July 26 - 9:50am
Post date:
2016, July 26 - 9:39am