Paweł Orłowski on the board of the Pomeranian Voivodeship
Paweł Orłowski is 40 years old and lives in Sopot. He graduated from the University of Gdańsk's Faculty of Law and Administration, was Deputy Mayor of Sopot between 2006-2010, a member of the Polish parliament in 2010-2011, Vice-Minister in the Ministry of Regional Development/ Infrastructure and Development between 2011-2015, Vice-Chairman on the board of the Pomeranian Development Fund Ltd from 2016. He has been presented with an Honorary Medal for Services to Territorial Local Government (2015), an Honorary Medal of the League of Polish Cities (2014), a Commander with Star of the Kingdom of Norway's Order of Service (Norway 2015). On the board of the Pomeranian Voivodeship he will be responsible for healthcare and social policy.
During the session of the Pomeranian Voivodeship Local Parliament on 12 September 2016 , the council took the decision to appoint Paweł Orłowski to the position of member of the board of the Pomeranian Voivodeship. In a secret ballot he received 22 votes in favour and 8 against the motion.
The Marshall of the Pomeranian Voivodeship, Mieczysław Struk, in recommending Paweł Orłowski for the board said: "He is a man of great experience, with the willingness to implement his newly assigned tasks, including healthcare and social policy, matters relating to the elderly etc.".
As Vice-Minister for Regional Development, he effectively managed the European Social Fund as part of the Operational Programme Human Capital 2007-2013 with a budget of more than 11 billion euro, which provided aid to, amongst others, the job market, social integration, education and healthcare. He and his team created and participated in the EU Operational Programme negotiations such as Knowledge Education Development and Digital Poland 2014-2020 with combined budgets of over 6 billion euro.
Source: pomorskie.eu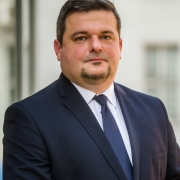 Last modified by: Tadeusz Zaleski
Created by: Tadeusz Zaleski
Last modified:
2016, October 18 - 9:40am
Post date:
2016, October 18 - 9:40am