Unique wing structure of Camptopterohelea odora
The latest issue of Scientific Reports (an online open access science journal published by the Nature Publishing Group) contains an article by an international team of researchers, entitled "A fossil biting midge (Diptera: Ceratopogonidae) from early Eocene Indian amber with a complex pheromone evaporator", authored by Frauke Stebner, Ryszard Szadziewski, Peter T. Rühr, Hukam Singh, Jörg U. Hammel, Gunnar Mikalsen Kvifte and Jes Rust.
The research team comprises experts from Germany (Steinmann-Institut; Zoologisches Forschungsmuseum Alexander Koenig; Helmholtz-Zentrum Geesthacht; Universität Kassel), Poland (University of Gdańsk), India (Birbal Sahni Institute of Palaeosciences) and Norway (University Museum of Bergen).
One of the article's co-authors is Prof. Dr hab. Ryszard Szadziewski, head of the Laboratory of Evolutionary Entomology and Museum of Amber Inclusions at the UG's Department of Invertebrate Zoology and Parasitology.
The publication contains a description of the unique wing structure in a hitherto unknown fossil species of an insect from the Ceratopogonidae family (biting midges), dating back 53 million years.
The miniature inclusion of the female of the Camptopterohelea odora, with a body length of 0.9 mm, has been preserved in Indian amber. It contains an incredible wing structure in the form of a large pocket for storing and diffusing sex-attractant pheromones.
The 3D reconstruction of the miniature insect's wing structure was conducted with the help of synchrotron radiation micro-computed tomography (video), a method employed for the first time in research into this kind of structure in fossil material.
This is the first fossil species for the small, modern family of biting midges (5 species), which lives in southeast Asia. The wing structure of females in the modern species is not so extensively developed.
This find explains that the unusually wide wings in females of some biting midges (Camptopterohelea, Eohelea, Cacaohelea), with an accompanying reduction of hairs on the antennae in males, is a form of adaptation used for communication in both sexes with the use of sex-attractant pheromones. For this reason, the males do not need the hairs on the antennae, which are used by other midges for receiving sound signals.
Attached:
Article in PDF format
Impressive video material ─ highly recommended!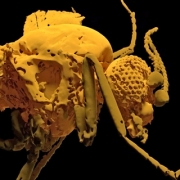 Last modified by: Tadeusz Zaleski
Created by: Tadeusz Zaleski
Last modified:
2016, December 6 - 10:03am
Post date:
2016, December 6 - 9:57am