Gold Medal at the Brussels Innova Fair
During "The World Exhibition on Inventions, Research and New Technologies" (Brussels, 17-19 November 2016) the company PHU Dytrych Sp. z o.o. from Łódź and a team from the Department of Environmental Technology (Prof. Adriana Zaleska-Medynska, Dr Eng. Michał Nischk and M.A. Eng. Paweł Mazierski) received the gold medal for devising an innovative device for odour neutralisation and air purification, which employs, amongst others, the process of photocatalytic degradation of contaminants. The project was carried out at the Faculty of Mathematics, Physics and Informatics of the University of Gdańsk.
The prototype device for air purification simultaneously allows for the removal of dust, air volatile organic compounds, microorganisms, hydrogen sulphide and ammonia from contaminated air. Research into the air purification technology was conducted jointly by PHU Dytrych and a team from the University of Gdańsk as part of the GEKON programme project financed by the National Centre for Research and Development and the National Fund for Environmental Protection. The aim of the project was to devise and implement proprietary products (innovative photocatalytic layers and devices based on these layers) for the removal of organic and non-organic compounds and microorganisms (bacteria and fungi) from the air, which should lead to a reduction of contamination levels and the neutralisation of odours at landfill sites and sewage treatment plants and consequently to the protection of surface water resources by eliminating sources of severe contamination.
As a result of the research conducted during the project, a prototype device was designed and constructed to purify and deodorise air-streams at a flow rate of 150m3/h. The device's effectiveness was tested through field tests during the process of purifying air emitted from centrifuges which dehydrate and concentrate sludge in a sewage treatment plant in Aleksandrów Łódzki. The research conducted indicates that the technology tested is in its final form and may be implemented in the target system (technology maturity level 9).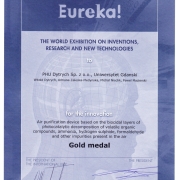 Last modified by: Tadeusz Zaleski
Created by: Tadeusz Zaleski
Last modified:
2016, December 27 - 12:59pm
Post date:
2016, December 27 - 12:57pm