You are here
Home
»
University
»
News
» Students of UG's School of Foreign Languages at European Parliament in Brussels
Students of UG's School of Foreign Languages at European Parliament in Brussels
Between 17-21 November 2016 the UG's School of Foreign Languages organised a trip for students of the university to the European Parliament in Brussels. Among the participants were students of Journalism and Social Communication, Diplomacy, European Business Administration, International Economic Relations and Political Science.
They all had the chance to visit Parlamentarium ─ the EU's interactive museum, learn about the work of the European Parliament, meet MEP Jarosław Wałęsa and employees of the European Parliament and European Commission. They sat in the European Parliament's Plenary Chamber and listened to many important facts about the European Union and the European Parliament, discovered what the work of an MEP involves, what the programmes of particular parties are and how important the role of translators and journalists is to the working of the parliament. In their free time, they also had the chance to take part in a guided tour of Bruges, Ghent and Brussels.
The entire stay of the students of the University of Gdańsk in Belgium was financed by the European Parliament.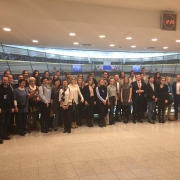 Last modified by: Tadeusz Zaleski
Created by: Tadeusz Zaleski
Last modified:
2017, January 3 - 11:01am
Post date:
2017, January 3 - 11:01am