The "Devil orchid" on the Top 10 New Species 2017 list
Each year, in order to honour the birthday of Carl Linnaeus, the father of taxonomy, the College of Environmental Science and Forestry compiles a list of the Top 10 New Species ─ the most interesting new species discovered over the previous 12 months.
In 2017 the Telipogon diabolicus (Orchidaceae) joined the list of 'winners'. The name of this orchid is derived from the fact that its generative structure formed from the fusion of its male and female parts resembles a devil's head. The orchid was discovered during field work conducted by Dr Marta Kolanowska in southern Columbia. The species has been classified as critically endangered due to the location of the only known population of T. diabolicus near a road and the vulnerability of high-altitude plant formations to climatic change.
This formerly unknown species has been described by Dr Marta Kolanowska and Prof. Dr hab. Dariusz L. Szlachetko from the UG's Department of Plant Taxonomy and Nature Conservation of the Faculty of Biology in cooperation with Ramiro Medina Trejo (Columbia).
The most intriguing issue concerning the T. diabolicus is the aspect of its pollination. Research hitherto indicates that pollinia in Telipogon orchids are carried by insects during pseudo-copulation (as they become attached to the body of a male insect as he is trying to copulate with a flower which to him resembles a female) but as yet no material has been published to prove this theory. It would be incredibly interesting to observe an insect to which the 'diabolical' gynostemium resembles the female of its species.
For over 10 years now the diversity, systematics and biogeography of Andean orchids have been the subject of research conducted by staff and doctorate students of the Department of Plant Taxonomy and Nature Conservation, who have described over 100 previously unknown species of South American orchids. The work in Columbia is conducted in cooperation with the Buenoy Yumartán Aldea Ecológica Foundation and local researchers.
Photo: Marta Kolanowska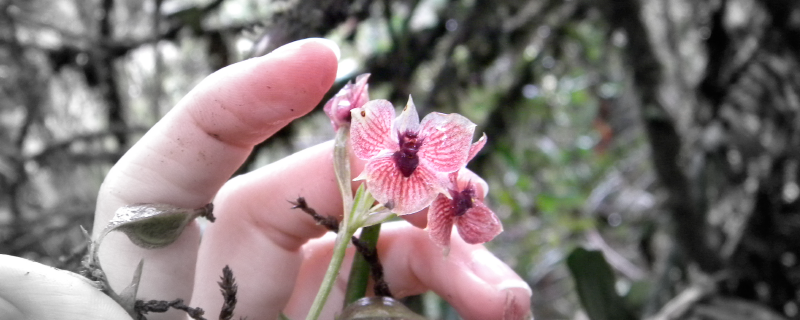 Last modified by: Tadeusz Zaleski
Created by: Tadeusz Zaleski
Last modified:
2017, July 4 - 10:08am
Post date:
2017, July 4 - 10:05am