You are here
Home
»
University
»
News
» Successes for the UG's Academic Sports Association athletics section
Successes for the UG's Academic Sports Association athletics section
Between 25─27 May 2017, athletes from the University of Gdańsk's Academic Sports Association competed in the Polish Academic Championships in Lodz. The women's team won bronze in the university ranking while the men's team took sixth place in the same category.
Individual medals (in the university ranking) were won by:
Karolina Bołdysz, gold ─ javelin (49.21)
Maja Mikołajek, silver ─ javelin (37.03)
Łukasz Smolnicki, silver ─ 400 m (48.46)
Adam Grela, silver ─ long jump (6.88)
Hugo Garcia Gomez, silver ─ 800 m (1:52.50)
4 × 100 metres relay team of Chistowski, Smolnicki, Piatkowski, Czubachowski, bronze (44.29).
The section coach is mgr Andrzej Cieplik.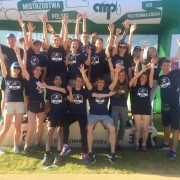 Last modified by: Tadeusz Zaleski
Created by: Tadeusz Zaleski
Last modified:
2017, July 11 - 10:27am
Post date:
2017, July 11 - 10:27am