End to the Academic Writing course
On 14 June 2017, the Senate Hall of the Rector's Office saw the official ceremony ending the academic writing skills course organised for the University of Gdańsk employees. The ceremony was attended by Prof. Dr hab. Piotr Stepnowski, Vice-Rector for Research and International Cooperation, Dr hab. Maciej Michalski, associate professor and Dean of the Faculty of Languages, Dr Ewelina Gutowska-Kozielska, Deputy Dean for Students at the Faculty of Languages and Dr hab. Mirosława Modrzewska, associate professor and Director of the Institute of English and American Studies.
The Academic Writing course lasted one semester and comprised 44 hours of lectures and practice conducted by Prof. Dr hab. Wojciech Węgrzyn and Prof. Dr hab. David Malcolm, as well as other employees of the Institute of English and American Studies, the UG Library and the Research and International Cooperation Office. The course was attended by 40 participants – research and didactic staff from the Faculties of Social Sciences, Law and Administration, Chemistry, Biology, Management, Economics, Oceanography and Geography, History and Languages. 50% of the course was co-financed by the Rector of the University of Gdańsk.
We would like to extend an invitation to another Academic Writing course in the 2017/18 academic year, as well as to an Academic Skills course which offers classes in English phonetics, conversation and rhetoric.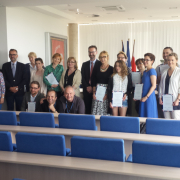 Last modified by: Tadeusz Zaleski
Created by: Tadeusz Zaleski
Last modified:
2017, September 12 - 1:44pm
Post date:
2017, September 12 - 1:44pm