You are here
Home
»
University
»
News
» Discover the beauty of Australia and let us take you to the land of the kangaroo
Discover the beauty of Australia and let us take you to the land of the kangaroo
Australian Days is the only such nationwide event in Poland to be devoted to far-away 'kangaroo-land'. 'Evenings with Australia' is a series of meetings, presentations and workshops, all on the subject of 'Down Under'. The organisers, Paweł Wida and Karolina Sypniewska-Wida, live in Sydney and try to share their passion and love for this country. Together with the Albion House team in Poland and Australia, they run a family business which for 22 years has been helping to realise the dream of students, travellers and workers to go to the other side of the world and elsewhere.
During this inspiring month we would like to bring you closer to our second home in which we live every day, a place which is the dream-destination of many but which only a few people reach. We show you that it is not so difficult. By talking about life, study, work and travel in Australia, we inspire many people each year with this country. The travellers, bloggers and authors of books who cooperate with us, talk about its beauty and present photos and videos from their trips. We would like to present the possibilities which Australia can offer to those who want to get to know this country through travelling, studying or working but also those who would like to commit themselves to the Land of Oz (as the locals call it) for longer, by moving there permanently.
In Gdańsk you will not only have the chance to listen to Marek Niedźwiecki, a fan of Australia, but also to discover more about the possibilities of travelling to Australia, to meet people who experienced the Australian adventure and to listen to an Australian, Anthony Weymouth, who will talk about Australian education. There will also be something for the body and the soul ─ a chance to sample Australian wine during sommelier workshops (online registration) or to listen to the sound of the Aboriginal didgeridoo. Some lucky people will also take part in a competition to win a Ticket to Australia! Come along!
WHEN? 24.04.2018, TUESDAY
WHERE? UNIVERSITY OF GDAŃSK, FACULTY OF SOCIAL SCIENCES, AUDITORIUM S205
HOW MUCH? FREE
15.00-20.00 Free individual travel consultations. Limited number of places, registration required. Sign up for a consultation at → (https://goo.gl/forms/RTlwVouDIfopkpa93)
17.00 Opening the 8th Australian Days to the sound of the didgeridoo – Marta Sapierzyńska
17.10 Why Australia? Meet us! ─ Karolina Sypniewska-Wida
17.20 Australia for education – Anthony Weymouth, Austrade Senior Trade Commissioner
17.50 Wherever ─ Australia from a drone as seen by the bloggers Pioter, Zońka and 'Dron Dżonson'
18.40 Through the eyes of a Polish student – participants in the 'Study in Australia' programme
19.10 Trips to Australia – Options and Organisation ─ Paweł Wida
19.40 Meeting with a fan of Australia ─ Marek Niedźwiecki
20.20 Win a ticket to Australia – competition
20.30 Sommelier workshops with an ambassador from Jacob's Creek wines, Wojciech Cyran – cost 20 zł (samples of three types of wine and snacks). Enrolment through winicjatywa.pl – limited number of places – location ALCHEMIA WINA
21.30 End of the festival
More information on Australian Days at: www.dniaustralii.com.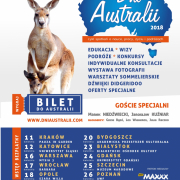 Last modified by: Tadeusz Zaleski
Created by: Tadeusz Zaleski
Last modified:
2018, April 10 - 10:45am
Post date:
2018, April 10 - 10:45am