You are here
Home
»
University
»
News
» Faculty of Management Students placed third in the Association for Information Systems Student Chapters competition in the USA
Faculty of Management Students placed third in the Association for Information Systems Student Chapters competition in the USA
A team of students from the UG's Faculty of Management (specialty: IT Applications in Business) qualified for the finals of the competition Association for Information Systems Student Chapters, held in Dallas (USA).
The three-member team comprising Krzysztof Orłowski, Adam Ostrowski and Paweł Stożyński came third in the category Software Innovation Challenge, winning a commemorative trophy.
The team have devised a prototype of the "Intelligent baby monitor system" with the help of the Python Programming Language, OpenCV library and the Raspberry Pi 3 platform. The solution allows the remote monitoring of a baby and its surroundings via a camera and set of sensors, by sending notifications and warnings to a cross-platform mobile application.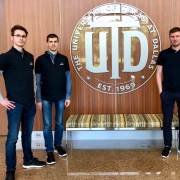 Last modified by: Tadeusz Zaleski
Created by: Tadeusz Zaleski
Last modified:
2018, June 19 - 11:13am
Post date:
2018, June 19 - 11:13am