Scientists from Johannes Gutenberg University Mainz visit UG
Prof. Piotr Stepnowski, Vice-Rector for Research and International Cooperation, met with lecturers from the Institute of Film, Drama and Empirical Cultural Studies of the Johannes Gutenberg University in Mainz (Johannes Gutenberg Universität Mainz). Prof. Michael Simon, Dr Oliwia Murawska, Dr Sandra Keßler and Dominique Conte M.A. visited the University of Gdańsk as part of the project "History and revival of Kashubian Culture". This explorative learning ("forschendes Lernen") project is being implemented as part of the "Cultural Anthropology/Folklore" course in Mainz (2018-2019) in cooperation with the UG's Institute of German Philology (Research Lab for Memory Narratives of Borderlands).
For a week a Polish-German group of lecturers and students was involved in field research and study tours in Kashubia and Gdańsk. One of the points on the agenda was the workshop "Günter Grass and Kashubian identity", prepared by Dr Miłosława Borzyszkowska-Szewczyk (Institute of German Philology). The project brings together students of Cultural Anthropology from Mainz and German Philology and Kashubian Ethno-philology from the University of Gdańsk who are implementing their own research projects. As part of the project, which will result in an exhibition and a publication, Dr Borzyszkowska will spend the winter semester 2018/19 at the Johannes Gutenberg University Mainz as a visiting professor.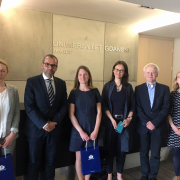 Last modified by: Tadeusz Zaleski
Created by: Tadeusz Zaleski
Last modified:
2018, June 26 - 9:13am
Post date:
2018, June 26 - 9:13am