Paulina Jędrak MSc distinguished in FameLab competition
FameLab is an international competition which encourages scientists, the natural spokespeople for science, to speak out in public. Scientists are expected to face a jury and an audience and, in the space of three minutes, tell what fascinates them every day in their research work.
FameLab, organised in Poland by the Copernicus Science Centre, follows a global format, and since its birth at the Cheltenham Science Festival in 2004 it has become one of the most important competitions in scientific communication. Its partnership since 2007 with the British Council has given FameLab a global context, with the competition being organised in over 30 countries across the world.
The topic presented by Paulina Jędrak MSc in the semi-finals, in which she spoke about the CRISPR-Cas 9 method, was: "How to genetically fool fate".
The finals of the competition were held at the Copernicus Science Centre in Warsaw. A Faculty of Biology doctoral student, Paulina Jędrak MSc, presented the topic of "The Mystery of the elixir of youth", with the presentation focused on the role of telomeres in the aging process.
UG press information has published the following comment by the author: "During the finals I spoke about the aging process and the role played by telomeres, the ends of chromosomes. These structures are not responsible for creating protein and for this reason, their truncation with each cell division allows for the most valuable sequences in the middle of chromosomes to be preserved. Some cells, e.g. cancer cells, produce the enzyme telomerase which, after each division, rebuilds the lost telomere fragments, thus guaranteeing their immortality. During my speech, and accompanied by the audience, I was deliberating if telomerase could be used in designing new anti-cancer therapies or in extending human life. I also focused on the latest scientific reports concerning the description of the detailed structure of telomerase".
In the finals Paulina Jędrak received a special distinction from the Kosciuszko Foundation to cover the cost ($9,000) of a three-month placement at an American university of her choice.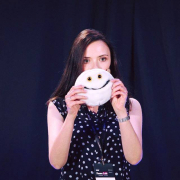 Last modified by: Tadeusz Zaleski
Created by: Tadeusz Zaleski
Last modified:
2018, July 31 - 10:32am
Post date:
2018, July 31 - 10:32am