Award for Marta Skowron Volponi
Marta Skowron Volponi, a doctoral student at the Faculty of Biology, has received an award for her oral presentation at the international entomological conference, the XI European Entomology Congress, which took place between 2-6 July 2018 in Naples, Italy, and brought together nearly 1,000 participants from 65 countries.
The winner presented her work entitled: "Not solely morphological mimics: imitation of hymenopteran flight trajectories in clearwing moths of Southeast Asian rainforests".
Butterflies from the family Sesiidae are known for their morphological similarity to Hymenoptera but their behavioural mimicry has not been studied so far due to the rare instances of Sesiidae being observed in their natural environment. Through innovative study into the biomechanics of flight (in cooperation with the University of California in Berkeley and Macquarie University in Sydney), I have demonstrated the existence of locomotor mimicry i.e. after filming butterflies, bees and wasps and comparing their flight trajectory it turned out that beelike Sesiidae fly more slowly, along a zig-zag and irregular path, similar to bees, while the wasplike ones fly faster, along a more regular and straighter path, similar to that of wasps. This was the first evidence, supported by experiment, of the existence of behavioural mimicry in this group of butterflies. The results were published in the journal Biology Letters, while the R programming code, written specially for this purpose, was published in Ethology.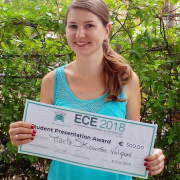 Last modified by: Tadeusz Zaleski
Created by: Tadeusz Zaleski
Last modified:
2018, August 28 - 10:44am
Post date:
2018, August 28 - 10:44am