Prof. Małgorzata Omilanowska honorary citizen of Palanga
Prof. Małgorzata Omilanowska (Institute of Art History, Faculty of History of the University of Gdańsk), researcher of the history of the Baltic seaside resort of Palanga, has received honorary citizenship of this Lithuanian town. The ceremony of awarding citizenship to the former Polish Minister of Culture was held in Palanga.
"It is hard for me to express how great an honour it is to receive this title", Omilanowska told the Polish Press Agency (PAP). "First and foremost honorary citizenship is a symbol of the acknowledgment of my work".
Prof. Omilanowska, the former Polish Minister of Culture and National Heritage, was awarded the prestigious title for her appreciation and promotion of Palanga in Poland and abroad, and for popularising the history and heritage of this resort.
This also comes as an acknowledgment for the preparation and publication of an exceptional work devoted to Palanga – a monograph entitled "Nadbałtyckie Zakopane. Połąga w czasach Tyszkiewiczów"/"Zakopane on the Baltic. Palanga at the time of the Tyszkiewicz family". The publication appeared in Polish in 2011 and its Lithuanian translation was published in 2014.
"It is extremely important for Polish-Lithuanian relations that we are able to understand each other. Research into our mutual heritage and past has been conducted by Poles and Lithuanians for many years but it is not easy to find a common language to express a world which used to be inseparable but which now is separate", said Omilanowska.
In Prof. Omilanowska's opinion the fact that her book has been translated into Lithuanian and well received and acknowledged "is a sign that I have managed to tell the story of the common heritage truthfully, in line with historical truth while at the same time not hurting the emotions and feelings of either side".
"This must be the most important thing for me in this story ", said Omilanowska.
Prof. Omilanowska researched Palanga for a considerable period of time, focusing on its history, architecture and most of all on the gem of this town – the Tyszkiewicz palace, erected at the end of the 19th century in a Neo-Renaissance style with Baroque and Classicist elements by Franz Heinrich Schwechten to a commission by Count Feliks Tyszkiewicz.
In 1900 a figure of Christ was placed beside the palace and until this day it remains a characteristic element of the landscape. The palace itself is surrounded by an 80-hectare garden and park, arranged and designed by Edouard Francois Andre. Restored several years ago, since 1963 the palace has housed the Museum of Amber which can boast around 30,000 exhibits.
The Tyszkiewicz family also had a great influence of the shaping of the architecture of Palanga, which, at the turn of the 19th and 20th centuries, was one of the most important meeting places for Polish cultural elites, as well as Russian and Lithuanian intelligentsia.
"Palanga is changing and regaining its former beauty. Not only was the palace renovated but the kurhaus, destroyed by fire, was also rebuilt. Palanga is becoming more noble, more European and this makes me glad", said Omilanowska, adding that "although Palanga is well-known to Lithuanians, it still remains to be discovered by Polish tourists".
From Vilnius: Aleksandra Akińczo (PAP)
Source (in Polish): dzieje.pl
Information (in Polish) also at: wilnoteka.lt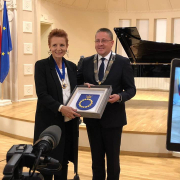 Last modified by: Tadeusz Zaleski
Created by: Tadeusz Zaleski
Last modified:
2018, October 9 - 3:42pm
Post date:
2018, October 9 - 3:40pm