You are here
Home
»
University
»
News
» Dr Marta Skowron Volponi receives City of Gdańsk Johann Uphagen Award for Young Scientists
Dr Marta Skowron Volponi receives City of Gdańsk Johann Uphagen Award for Young Scientists
Dr Marta Skowron Volponi, entomologist and graduate of the Faculty of Biology of the University of Gdańsk, has received the 2018 City of Gdańsk Johann Uphagen Award for Young Scientists in the category of exact and natural sciences. She was given the award for her original approach to research into lepidopterology (a branch of entomology dealing with the study of butterflies), her significant scientific achievement in the field of behavioural mimicry (mimicking other species) and the description of three species of butterflies of the family Sesiidae new to science.
The award ceremony with Aleksandra Dulkiewicz, acting Mayor of Gdańsk, was held on 1 March at 12:00 at the Uphagen House in ul. Długa 12.
The City of Gdańsk Johann Uphagen Award for Young Scientists, previously known as the "Young Hevelius", has been awarded since 2003 to students and graduates of Gdańsk higher education institutions below the age of 30 for their outstanding scientific achievements.
Dr Marta Skowron Volponi is a graduate of Biology, Ecology and Microbiology Doctoral Studies at the Faculty of Biology of the University of Gdańsk. She's an entomologist both by passion and by education. As part of her doctoral dissertation she combined innovative methods of analysing insect flight trajectory, research into characteristic fragments of butterfly DNA and high quality film and photographic documentation with classic research into the morphology (structure) and taxonomy (classification) of tropical butterflies of the family Sesiidae which imitate bees or wasps. So far she has described three species of butterflies new to science (from the tropical forests of Malaysia and Thailand) and rediscovered a fourth species, hitherto known only from one museum specimen over 130-year-old, a discovery which has brought her the greatest renown. Dr Marta Skowron Volponi considers her greatest scientific achievement to be demonstrating that Sesiidae imitate their models (bees or wasps) not only morphologically but also by flying in a similar fashion and following similar trajectories. The oral presentation about the results of this research, which she delivered at the largest entomological conference in Europe (11th European Congress of Entomology, Naples, Italy, with almost 1,000 participants), received a prize for one of five best presentations by doctoral students. Dr Skowron Volponi is most interested in the behaviour of butterflies in their natural habitat, in the case of Sesiidae an unstudied field, and for this reason she spends a great deal of time on fieldwork where she does not attract her subjects with synthetic pheromones, as is usual with taxonomists who deal with this insect group. For this reason, her publications do not provide mere technical descriptions of butterfly morphology but give an insight into their 'daily lives', presented and described in unique footage.
Between 2012-2018 Dr Skowron Volponi headed seven expeditions to the tropical forests of Malaysia and Thailand, with a two-part documentary, "Marta w dżungli", made and shown on Fokus TV. She also took part in the making of a nature documentary "Biebrza – między jawą a snem". During her doctoral studies she completed two scientific internships abroad ─ at Macquarie University in Sydney, Australia, and at the University of California, Berkeley in the United States. She is the author of 12 (primary author of seven) scientific publications in reviewed international journals. In 2016 she received an ETIUDA IV grant from the National Science Centre. She is also involved in popularising science, with articles published in National Geographic Polska, Forum Akademickie or in the Global Wildlife Conservation blog. In September 2018 she won first prize for her popular science presentation during the Kuźnia Młodych Talentów (Young Talent Incubator) organised by the Academy of Young Scientists of the Polish Academy of Sciences. For one year she has been Vice-Chair of the ClearWing Foundation for Biodiversity where, as part of the foundation's activity, she conducts research into butterflies and will conduct classes and nature documentary shows in Poland and Southeast Asia. In the distant future she is hoping to coordinate a project to protect unique butterfly habitats in Thailand.
The City of Gdańsk Johann Uphagen Award for Young Scientists (under this name since 2006) was first established in 2003 as the "Young Hevelius" and is the most important distinction for young researchers in Pomerania. University of Gdańsk researchers have received the award from its inception, winners including Dr Sławomir Antkiewicz (2003), Dr Oktawian Nawrot (2004), Dr Karol Horodecki and Dr Monika Bokiniec (2006), Dr Kamil Zeidler (2007), Dr Michał Harciarek (2008), Dr Paweł Antonowicz and Dr Robert Łyżeń (2009), Dr Sylwia Freza and Dr Magdalena Giers (2011), Jakub Szlachetko M.Sc. (2012), Piotr Kitowski M.Sc. (2013), Dr Anna Klimaszewska and Dr Marta Kolanowska (2014), Wacław Kulczykowski M.Sc. (2016), Piotr Zieliński M.Sc. (2017).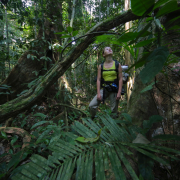 Last modified by: Andrzej Żurawik
Created by: Andrzej Żurawik
Last modified:
2019, March 6 - 9:56am
Post date:
2019, March 6 - 9:56am