You are here
Home
»
University
»
News
» Prestigious European Research Council grant for Dr hab. Michał R. Szymański
Prestigious European Research Council grant for Dr hab. Michał R. Szymański
Dr hab. Michał R. Szymański from the University of Gdańsk (Intercollegiate Faculty of Biotechnology UG&MUG) has received a prestigious European Research Council grant to the amount of 1.5 million Euro. The research conducted as part of the grant will offer an insight into the fundamental principles of human mitochondrial DNA repair, which will in future result in a greater understanding of broadly defined mitochondrial diseases.
The grant by the European Research Council (ERC) was awarded as part of the ERC Starting Grant competition. The project entitled Dissecting the mechanism of DNA repair in human mitochondria will be implemented over the period of five years.
A European Research Council grant is an exceptional distinction. The ERC's mission is to finance pioneering and ground-breaking scientific research, with the only criterion applied to assess the ideas being scientific excellence and their leading motto High risk – high gain.
"Mitochondrial DNA (mtDNA) repair is found in mitochondria and the main enzymes responsible for the process have been identified. However, the spatial organisation of the mitochondrial repair complex, thanks to which mtDNA is repaired, is not well known. The aim of the project is to provide a basic structural model and a mechanistic understanding of the functioning of the DNA repair complex in human mitochondria", explains Dr hab. Michał R. Szymański.
More information on the grant and the research: https://erc.europa.eu/news/StG-recipients-2019
Dr hab. Michał R. Szymański graduated in Biochemistry and Biophysics from the University of Houston in the United States in 2007. In 2011 he received his PhD in Biochemistry and Molecular Biology from the University of Texas. In the same year he also received a prestigious scholarship (Jeane B. Kempner Postdoctoral Fellowship) which enabled him to continue his research at the Department of Biochemistry and Molecular Biology and the Department of Pharmacology of the Medical School of the University of Texas. The research has contributed towards an understanding of the mechanisms of DNA replication and repair in bacteria, the structural basis behind the replication of human mitochondrial DNA and an understanding of the causes of the toxicity and complications related to the use of antiviral medication. In October 2017, as a winner of a POLONEZ grant from the National Science Centre and a FIRST TEAM grant from the Foundation for Polish Science, he commenced work as an adjunct in the Core Facility Laboratories of the Intercollegiate Faculty of Biotechnology UG & MUG. In 2018 he received a prestigious EMBO Installation Grant from the European Molecular Biology Organization and in 2019 the degree of doctor with habilitation. He is currently head of the Laboratory of Structural Biology. The laboratory and research group headed by Dr hab. Szymański concentrates on research into the structure of the enzymes responsible for the replication and repair of genetic material in the cells of humans, viruses and bacteria.
Dr Beata Czechowska-Derkacz, University of Gdańsk press officer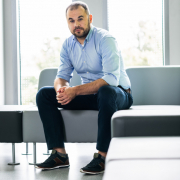 Last modified by: Andrzej Żurawik
Created by: Andrzej Żurawik
Last modified:
2019, September 4 - 1:20pm
Post date:
2019, September 4 - 9:04am