Kontakt
Telefon: 58 523 37 10
Room number: 110
Kontakt przez sekretariat
Telefon do sekretariatu:
58 523 3710
Nr pokoju: 14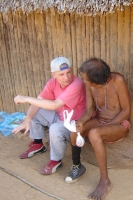 Stanowiska zajmowane w jednostkach
Post-doctoral fellow
Źródło danych:
Skład Osobowy, Fast
Zainteresowania badawcze
Publikacje
Teoria społeczeństw pierwotnych; język i komunikacja symboliczna w społeczeństwach pierwotnych; Indianie Ameryki Południowej, Amazonia (etnohistoria, zmiana kulturowa, ekologia kulturowa, struktura społeczna, struktura symboliczna)
Research interests:
Theory of Primitive Society; Language and Communication in Primitive Society; South American Indians, Amazonia (ethnohistory, cultural change, cultural ecology, social structure, symbolic structure)
Wybrane publikacje:
Wybrane publikacje/selected publications:
Teren w antropologii. Praktyka badawcza we współczesnej antropologii kulturowej, redakcja, Poznań: Wydawnictwo Naukowe UAM, 2011; ss. 339 [razem z Tarzycjuszem Bulińskim]
Estudio antropológico para crear la propuesta de la reserva territorial Yavarí-mirím (Loreto), Perú, Lima: Asociación Interétnica del Desarollo de la Selva Peruana (AIDESEP), UAM, 2010, ss. 150 [razem z Pawłem Chycem, Łukaszem Krokoszyńskim, Iwoną Stoińską]
Borys Malkin, Odchodzący świat. Tropem kultur indiańskich i świata przyrody Ameryki Południowej, wybór i opracowanie, Warszawa: AKOT – Andrzej Kotnowski, 2007, ss. 400, rys., bibli., fot., noty, indeksy [razem z Iwoną Stoińską-Kairską]
Indianie Ameryki Środkowej i Południowej. Demografia, rozmieszczenie, sytuacja etno-kulturowa, t. 1: Analiza etnologiczna, ss. 257, t. 2: Indeksy, ss. 503, Seria Studia i Materiały t. 19, Poznań-Warszawa: Centrum Studiów Latynoamerykańskich UW, Instytut Etnologii i Antropologii Kulturowej UAM, 1999.
La actual situación etno-cultural de los grupos etno-linguisticos nativos de America del sur, t. 1: Mapas e Indices, ss. 321, t. 2: Apendices, ss. 229, Quito: Abya Yala, Uniwersytet im. A. Mickiewicza, 1998.
Last modified:
2020, November 22 - 11:03pm
Post date:
2013, July 11 - 2:59pm
---
–
Dane pobrane z Portalu Nauczyciela