Kontakt
Telefon: + 48 58 523 37 25
Room number: 103
Kontakt przez sekretariat
Telefon do sekretariatu:
58 523 3710
Nr pokoju: 14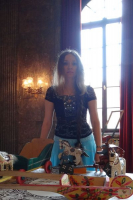 Stanowiska zajmowane w jednostkach
Post-doctoral fellow
Źródło danych:
Fast, Skład Osobowy
Biografia i osiągnięcia
Profil naukowy
Biografia:
Antropolog historii, eseistka, poetka, bajkopisarka, dramaturg, tłumacz. Ukończyła z wyróżnieniem historię na Uniwersytecie Warszawskim, gdzie doktoryzowała się w 2000 roku, Szkołę Nauk Społecznych przy Instytucie Filozofii i Socjologii PAN (2000) oraz Ecole des Hautes Etudes en Sciences Sociales w Paryżu (1996/1997). W latach 2002-2008 adiunkt w IFiS PAN w Warszawie, sekretarz Rady Naukowej IFiS PAN. Od 2009 adiunkt w Zakładzie Etnologii Instytutu Archeologii UG.
Wyróżnienia i nagrody:
Stypendystka m.in. Ministra Kultury, Ministra Edukacji Narodowej, Rządu Francuskiego, Rządu Włoskiego, Fundacji A. Mellona, Miasta Gdańska, Województwa Pomorskiego, Fundacji na Rzecz Nauki Polskiej. Fellow Akademii Amerykańskiej w Rzymie. Laureatka ponad dwudziestu konkursów poetyckich i dramaturgicznych. Autorka m.in. wielokrotnie nagradzanej scenicznej baśni Dzieje sławnego Rodryga oraz eseistycznej książki Ocet i łzy. Terror Wielkiej Rewolucji Francuskiej jako doświadczenie traumatyczne(słowo/obraz terytoria, Gdańsk 2002), która przyniosła jej stypendium "POLITYKI" i nominację do Nagrody Literackiej NIKE. Jej słuchowisko "Podróż na Księżyc" zdobyło Grand Prix Festiwalu "Dwa Teatry" Sopot'2015, a powieść "Latawiec z betonu" otrzymała Pomorską Nagrodę Literacką "Wiatr od morza" w 2019 r.
Zainteresowania badawcze
Publikacje
Antropologia historii; historia mentalności, badania nad propagandą i ideologiami totalitarnymi; mity polityczne; kult jednostki, rewolucja francuska i epoka napoleońska
Research interests:
Anthropology of history; history of mentality; propaganda; totalitarianism; political myths; personality cult; the French Revolution and Napoleonic era.
Wybrane publikacje:
Wybrane publikacje/ selected publications:
Bogowie u władzy. Od Aleksandra Wielkiego do Kim Dzong Ila. Antropologiczne studium mitów boskiego władcy, "słowo/obraz terytoria", Gdańsk 2012, ss. 336;
Ocet i łzy. Terror Wielkiej Rewolucji Francuskiej jako doświadczenie traumatyczne, "słowo/obraz terytoria", Gdańsk 2002, ss. 302;
Krv i revolucija. Antropološka studija, "Forum. Mjesečnik Razreda za Kniževnost Hrvatske Akademije Znanosti i Umjetnosti", nr 1-3, 2011, ss. 5-23;
Religious Aspects of the 20th Century Personality Cult, "Kultura i Historia", nr 18, 2010, (pismo on-line);
L'enfer révolutionnaire. Le diable et les enfers dans la littérature politique française des années 1789-1799, "Acta Poloniae Historica", 78, 1998.
Last modified:
2020, November 22 - 11:09pm
Post date:
2013, July 11 - 3:00pm
---
–
Dane pobrane z Portalu Nauczyciela