dr hab. Piotr Perkowski, prof. UG
Kontakt
Telefon: +48 58 523 21 47
Room number: 2.20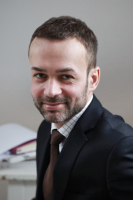 Stanowiska zajmowane w jednostkach
Associate Professor
Źródło danych:
Skład Osobowy
Zainteresowania badawcze
Publikacje
Komunizm, Europa Środkowo-Wschodnia, historia społeczna, nowoczesność, Solidarność, historia Gdańska, historia kobiet.
Research interests:
Communism, East Central Europe, social history, modernity, Solidarity movement, history of Gdańsk, women's history.
Selected publications:
"Gdańsk Shipyard Workers at the turn of the 1980s: Between Solid and Liquid Experience in a Socialist Port", International Journal of Maritime History 33, issue 1 (2021)
Kobiety w Polsce 1945–1989: Nowoczesność – równouprawnienie – komunizm (Kraków: Universitas, 2020), pp. 520 (with Katarzyna Stańczak-Wiślicz, Małgorzata Fidelis, and Barbara Klich-Kluczewska).
Gdańsk – miasto od nowa: Kształtowanie społeczeństwa i warunki bytowe w latach 1945–1970 (Gdańsk: Słowo/Obraz Terytoria, 2020, 2nd ed., expanded), pp. 660.
"Wedded to Welfare? Working Mothers and the Welfare State in Communist Poland", Slavic Review 76, no. 2 (2017): 455–80.
"La memoria del 1980 in Polonia e la nascita del Centro europeo di Solidarność", Passato e presente 98 (2016): 91–109.
Recent research projects:
2018–2021: "Komunizm, Solidarność i kryzys nowoczesności", Narodowe Centrum Nauki
2013–2016: "Kobiety w Polsce 1944–1989", Narodowy Program Rozwoju Humanistyki, MNiSW, project in cooperation with Polish Academy of Sciences in Warsaw, University of Illinois at Chicago, and Jagiellonian University.
Last modified:
2021, January 27 - 9:45pm
Post date:
2013, July 11 - 3:00pm
---
–
Dane pobrane z Portalu Nauczyciela