dr hab. Piotr Perkowski, prof. UG
Kontakt
Telefon: +48 58 523 21 47
Room number: 2.20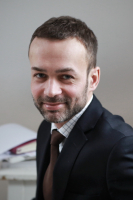 Stanowiska zajmowane w jednostkach
Associate Professor
Źródło danych:
Skład Osobowy
Komunizm, Europa Środkowo-Wschodnia, historia społeczna XX wieku, nowoczesność, Solidarność, Gdańsk w latach komunizmu, historia kobiet.
Research interests:
Communism, East Central Europe, social history of the 20th century, modernity, Solidarity movement, Gdańsk under communism, women's history.
Selected publications:
"Wedded to Welfare? Working Mothers and the Welfare State in Communist Poland", Slavic Review 76, no. 2 (2017): 455–80.
"La memoria del 1980 in Polonia e la nascita del Centro europeo di Solidarność", Passato e presente 98 (2016): 91–109 [The memory of 1980 in Poland and the creation of the European Solidarity Centre].
Gdańsk – miasto od nowa: Kształtowanie społeczeństwa i warunki bytowe w latach 1945–1970 (Gdańsk: Słowo/Obraz Terytoria, 2013), pp. 536 [Gdańsk – a city from scratch: Shaping society, living conditions, 1945–1970]. See: http://terytoria.com.pl/ksiegarnia,tytuly,810.html
"Narastanie buntu w Stoczni Gdańskiej przed strajkami w sierpniu 1980 roku (charakterystyka środowiska)", Przegląd Historyczny 104, no. 4 (2013): 749–68 [Growing Discontent in the Gdańsk Shipyard in the pre-1980 strike period].
In preparation:
Historia kobiet w Polsce 1945–1989 [History of Women in Poland, 1945–1989], with Małgorzata Fidelis, Barbara Klich-Kluczewska, Katarzyna Stańczak-Wiślicz.
For more publications see:
http://expertus.bg.univ.gda.pl/
http://nauka-polska.pl/dhtml/raporty/ludzieNauki?rtype=opis&objectId=134...
Recent research projects:
2013–2016: "Kobiety w Polsce 1944–1989", Narodowy Program Rozwoju Humanistyki, MNiSW, project in cooperation with Polish Academy of Sciences in Warsaw, University of Illinois at Chicago, and Jagiellonian University.
Selected conference papers and other presentations:
Bremen, May 2017: invited lecture "In what sense was Communism Modern? The Case of Shipyard Workers", Kolloquium zur Ost(mittel)europäischen Geschichte, Forschungsstelle Osteuropa, Universität Bremen, in cooperation with Deutschen Gesellschaft für Osteuropakunde;
Gdańsk, January 2017: invited lecture "Trzy miasta czy Trójmiasto: Badanie historii integracji", Seminarium Centrum Doskonałości Recourse, Katedra Geografii Ekonomicznej UG;
Warsaw, October 2016: panel discussion "Historia kobiet w PRL czy historia PRL z perspektywy płci", Instytut Historyczny, Uniwersytet Warszawski;
Gdańsk, October 2016: "Solidarity and the Demise of Modernity: A New Perspective on Social Movements in Eastern Europe", workshop "Protest and Solidarity: Current Research on the Cultural History of Political Protest in Late Communist Poland", Europejskie Centrum Solidarności;
Budapest, October 2015: "'Finally the Movie Treated the Youth Seriously': Sex and Sexuality in the Movies on the Youth of 1960s and 1970s' Poland", conference "Sex and Sexuality in East-Central Europe, Past and Present", Central European University;
Warsaw, April 2015: "Women's History, Communism and Sociological Sources", conference "Women in Former Eastern Bloc – Methods and Sources", Instytut Badań Literackich PAN;
Warsaw, December 2014: "Sexual Violence in Postwar Gdańsk, 1945–46", workshop "Sexual Violence in Central and Eastern Europe 1939–46: Incidents, Sources, and Politics", Deutsches Historisches Institut;
Bucharest, May 2012: "Women and Welfare State in Post-war Poland", conference "Gender and Politics under Communism – New Perspectives on Central and Eastern Europe", Institul de Investigare a Crimelor Comunismului și Memoria Exilului Românesc;
Warsaw, April 2012: invited lecture "Ambiwalencje ewolucji społecznej i przestrzennej powojennego Gdańska", Instytut Historyczny, Uniwersytet Warszawski;
Chicago, March 2012: "Gender and Sexuality in Communist Poland: Perspectives on Historical Approach", conference "Gender and Sexuality in East Central European History", University of Illinois.
Last modified:
2019, March 14 - 1:12pm
Post date:
2013, July 11 - 3:00pm
---
–
Dane pobrane z Portalu Nauczyciela