dr hab. Grzegorz Berendt, prof. UG
Kontakt
Telefon: +48 58 523 22 59
Telefon: + 48 58 523 22 59
Room number: 2.38
Kontakt przez sekretariat
Telefon do sekretariatu:
+ 48 58 523 21 47
Nr pokoju: 2.26
Aktualnie pełnione funkcje:
Kierownik Pracowni Historii Żydów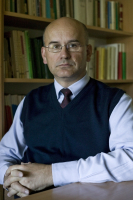 Stanowiska zajmowane w jednostkach
Zainteresowania badawcze
Publikacje
Dzieje polskich Żydów; ludność Pomorza Gdańskiego w XX w. Obecnie: relacje polsko-żydowskie w okresie Zagłady oraz Zagłada Żydów na Polesiu; polityka władz Polski Ludowej wobec ludności żydowskiej.
Research interests:
The history of Polish Jews; the population of Gdańsk Pomerania in the 20th c. Current research: Polish-Jewish relations during the Holocaust and the extermination of Jews in Polesie; Polish government policy towards the Jewish population.
Wybrane publikacje:
Wybrane publikacje/ selected publications:
W cieniu PZPR. Działalność Towarzystwa Społeczno-Kulturalnego Żydów w Polsce pod rządami komunistów (1950-1989), w: Stowarzyszenia mniejszości narodowych, etnicznych i postulowanych w Polsce po II wojnie światowej, Zakład Wydawniczy "Nomos", Kraków 2013, s. 171-209.
W Republice Weimarskiej i Trzeciej Rzeszy, w: Dzieje Lęborka, Wydawnictwo Bernardinum, Lębork-Gdańsk 2009, s. 425-554.
Życie żydowskie w Polsce w latach 1950-1956. Z dziejów Towarzystwa Społeczno-Kulturalnego Żydów w Polsce, Wydawnictwo UG, Gdańsk 2006, ss. 402.
Zjednoczenie Syjonistów Demokratów "Ichud", w: A. Grabski, G. Berendt, Między emigracją a trwaniem. Syjoniści i komuniści żydowscy w Polsce po Holocauście, Żydowski Instytut Historyczny, Warszawa 2003, ss. 101-223.
Żydzi na gdańskim rozdrożu (1945-1950), Wydawnictwo 44, Gdańsk 2000, ss. 211.
Więcej publikacji/ for more publications see: http://expertus.bg.univ.gda.pl/
Last modified:
2017, December 1 - 10:45am
Post date:
2013, July 11 - 2:59pm
---
–
Dane pobrane z Portalu Nauczyciela