International Economic Relations, with a specialization International Business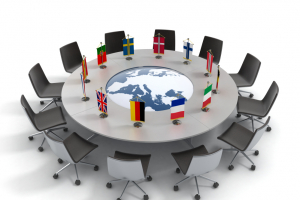 Faculty of Economics
MAIN SUBJECTS
The English-language specialization of International Business has been conducted at the Faculty of Economics for 10 years. The programme is composed of strong core and major subjects and an interesting range of electives. It deepens the knowledge in the most specific areas of international relations, such as:
international business,

international finance,
intercultural communication in business,
transportation and international logistics,
marketing for managers,

sustainable development,

market simulation,

portfolio management,
globalisation and regionalisation, etc.
BENEFITS OF STUDYING INTERNATIONAL BUSINESS
Our programmes address different issues of international finance, marketing and trade, logistics, globalisation and intercultural approaches to international business. Students are encouraged to prepare their MA thesis in accordance with their particular interests. The tuition methods in Master Degree Programmes include traditional lectures both by outstanding University professors and company practitioners, seminars, case study analysis, buzz groups and individual supervision for students' thesis. The full-time programmes give students the latest theoretical knowledge of contemporary business environment. Moreover, the Faculty of Economics offers more than 200 opportunities to go to universities in 25 different countries each year.
Choosing the International Business specialization you have the opportunity to:
study in the international environment;
acquiring knowledge and skills necessary in professional work on the analysis of international economic and social phenomena, taking into account cultural differences;
attending classes carried out in cooperation with business practitioners;
studying within the ERASMUS+ program, which is used by nearly 200 students of our faculty every year;
studying in one of many countries in the world with which the Faculty has signed a bilateral agreement, e.g. USA, China, Japan, South Korea, Russia, Ukraine;
obtaining an international certificate in Refinitiv Eikon computer lab (formerly Thomson Reuters);
demonstrate activity for the academic community in numerous student organizations, scientific circles, AIESEC;
attend classes in modern auditoriums, teaching rooms and computer laboratories;
using databases and global publications, student zones, public computer stations, free Wi-Fi and an E-student system in which you can handle almost all student matters;
learning using specialized computer programs used in various industries, like SAP - logistics, OSTC laboratory - finances, Statistica and SPSS - statistical data analysis;
free use of Microsoft and IBM programs;
obtaining a double degree at the University of Applied Sciences Upper Austria Campus in Steyr.
CAREER PROSPECTS
International Business studies give their participants access to exceptional knowledge, skills and expertise about strategic and global business management, marketing, financial issues as well as specific insights into business system. The programme offers students comprehensive understanding of the complexities in the field of international business and prepares the students for challenging positions in various areas of international business. The graduates achieve recognizable diploma and may continue the studies at the PhD level.
Degree diploma grade – maximum 100 points
Graduates of all courses of study at tertiary-level institutions can apply.
Limit przyjęć zostanie podany po zatwierdzeniu przez Senat.
Last modified: 2021, January 28 - 12:07pm
Post date: 2019, November 20 - 11:15am