Kacper Ptaszek: A biologist exploring the mysteries of the brain and shattering myths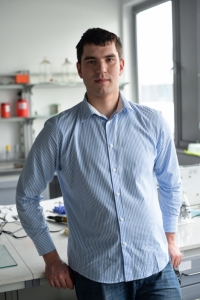 Where did your academic interest in autism come from?
When I started studying biology and I taught a gymnastics class in the first year at a centre for autistic children, and I got so interested that I decided that in biology I would specialise in neurobiology. I wanted to study the disorders within the spectrum of autism, to search for different pieces of information on the topic, and after getting my BA in biology, I started to study psychology with a specialisation in neurobiopsychology. I also completed my MA studies at the Faculty of Biology, where I'm now doing my doctorate on the analysis of serotonin (a neurotransmitter in the brain) in the context of autism spectrum disorder. This is a connection firstly between biology, the serotonin aspect, research on rats and secondly autism spectrum disorder or purely psychological disorders. Hence the studies in psychology, to learn more about these people and to understand their problems. Besides, I'm working the whole time as a therapist, I look after an adult with autism, and I also help out a little at the centre.