Prof. Dariusz Filar – a twin-track life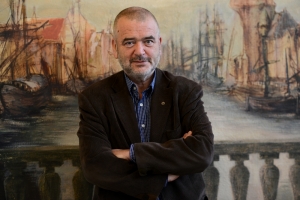 Born 18 July 1950 in Gdynia, Poland. Has worked since 1973 at the Faculty of Economics at the University of Gdańsk and as professor since 1992. Between 1992-1995 visiting professor at the Center for Russian and East European Studies (CREES) at the University of Michigan, Ann Arbor (USA), and between 1998 – 2001 lecturer at the Central European University.
In the 1980s, worked for the underground 'samizdat' press and wrote commentaries for The Wall Street Journal. At the same time he began his association with the editorial staff of the quarterly Przegląd Polityczny. Writes commentaries on the economy for the newspapers Rzeczpospolita and Gazeta Wyborcza. Alongside his work on economics, he has also written creatively in the field of fiction, his most important books being Czaszka Olbrzyma (Nasza Księgarnia 1976), Pies Wyścigowy (Czytelnik 1984), Jeszcze Jedna Podróż Guliwera (Solaris 2014). He is currently at the finishing stage of publishing the modern story Drugie Wejrzenie (Novae Res 2015).
Between 1999 – 2004 held the post of Chief economist at Bank Pekao S.A. Between 2004 – 2010 was a member of the Monetary Policy Council at the National Bank of Poland, and from March 2010 to December 2014 a member of the Economic Council for the Prime Minister. In 2006, the President of Italy, Giorgio Napolitano, appointed him a knight of the Ordine della Stella della Solidarieta Italiana.