Prof. Tomasz Swoboda: I have a maximalist approach to life and time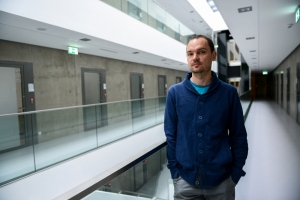 Tomasz Swoboda was born in 1977 in Gdańsk. He is a graduate of Polish Philology and Romance Philology at the University of Gdańsk. As a finalist of a Polish language competition, he was a student of the Collegium Invisibile. He has worked at the UG's Institute of Romance Philology since 2003, of which he has been Vice Director since 2011.
He is an author of four books - To Jeszcze nie Koniec? (Gdańsk, 2009), Historie Oka (Gdańsk, 2010), Histoires de l'œil (Amsterdam-New York, 2013) and Powtórzenie i Różnica (Gdańsk, 2014) as well as several dozen articles in Polish and foreign journals. He has published translations of more than a dozen books by authors such as Georges Poulet, Roger Caillois, Georges Bataille, Jean Starobinski, Roland Barthes or Le Corbusier. Winner of the monthly "Literatura na Świecie" prize for translation and the Andrzej Siemek Award for his Historie oka. A Centre National du Livre grant-holder and tutor in the programme "Fabrique des traducteurs" at the Collège International des Traducteurs Littéraires in Arles. Since 2011, together with the lawyer Tomasz Kopoczyński, he has organised meetings with outstanding Polish and European humanists as part of the "TeKa refleksji" series (http://www.kopoczynski.pl/wokol-nas). In his free time he creates experimental music with the band Columbus Duo (http://columbusduo.bandcamp.com/).