Prof. Cezary Obracht-Prondzyński – Kashub and Pole
Faculty of Social Sciences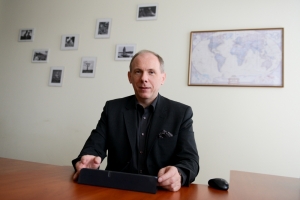 Cezary Obracht-Prondzyński, Full Profesor and Doctor with Habilitation, sociologist, anthropologist, historian, born in Bytów in 1966. He works in the Institute of Philosophy, Sociology and Journalism, which he headed between 2005-2012 and where he now leads the Division of Social Anthropology. His research interests mainly concern the issue of national and ethnic minorities, contemporary cultural issues, Kashubian and Pomeranian culture and regional politics. He has written or co-written over 30 books and edited or co-edited over 20, as well as writing several hundred academic, popular scientific and journalistic articles. He has promoted 7 doctorates.
Between 1995-2000, he was chief-editor of the monthly Pomerania. He is a member of several academic associations – The Kashubian Institute (director), Gdańsk Academic Association, the Scientific Association in Toruń, the Polish Sociology Association (member of the Board of Directors and head of the Organising Committee for the 16th All-Poland Sociology Convention, which will take place in 2016 in Gdańsk). He is also a cultural animator and member of several social organisations, most importantly the Kashubian-Pomeranian Association. He also serves on the board of several museums (Wejherowo, Bytów, Słupsk) and on the Programme Council of the Baltic Sea Cultural Centre in Gdańsk. He leads the Funding Council for the Kashubian People's University and for the Research and Social Analysis Centre in Gdańsk. For a number of years he has been a member of the programming team of the Pomeranian Citizens' Congress.
In 1995 he received an award from the 'POLCUL' Foundation for his social and cultural work in Pomerania and in 2004 a Zygmunt Gloger Prize and Medal.