Daniel Wolecki – my passion is chemistry and helping those in need as a volunteer firefighter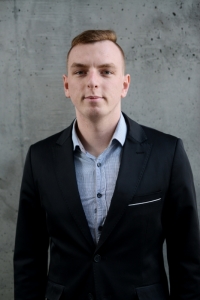 Daniel Wolecki, student of the Faculty of Chemistry of the University of Gdańsk. Born and bred in Wiślinka near Gdańsk, where he still lives. In 2012 he graduated from the Secondary Technical School of Communication Technology No. 4 as an ICT technician and in the same year he started his studies at the University of Gdańsk. In 2015 he finished his BA studies in Environmental Protection with a diploma entitled "Estimating sulphonamide residue in milk". He is currently a first-year MA student of Chemistry specialising in Chemistry and Environmental Technology. He is an active member of the UG's Faculty of Chemistry's Student Council and a representative for the University of Gdańsk's Student Parliament. Between May and August 2015 he completed a placement at the National Institute of Advanced Industrial Science and Technology in Japan (AIST) where among others he was involved in the research into the behaviour of flame retardants in acrylonitrile-butadiene-styrene resins. His scientific activity at the University of Gdańsk is connected with analysing food for the presence of medication or antibiotics. He is currently conducting research for his MA paper.
For many years Daniel has combined study with a unique passion. Since 2004 he has been a member of the Volunteer Fire Service in Gdańsk - Sobieszewo. When he was 18 he finished a basic course for volunteer firefighters and a specialised first-aid course, both with distinction, thus becoming a fully-fledged firefighter. Since then he has taken part in many rescue operations. Every year he volunteers for the WOŚP (Grand Orchestra of Christmas Charity) finals and for many years he has also take part in the All-National Firefighting Knowledge Competition, where he has taken top place. He is also a distinguished volunteer blood donor.
Daniel spends his free time fishing with family and friends. He claims this is the best way to unwind but also to learn perseverance. He reads books as a hobby, with preference for fantasy but his greatest passion and hobby is being a volunteer firefighter.
As his greatest assets Daniel mentions eagerness to work, openness to new acquaintanceships and indomitable high spirits. His consistency and perseverance in achieving his goals make it possible for him to express himself in many domains of life.