Prof. Małgorzata Latałowa – I look into the past of the natural environment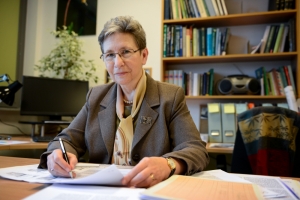 Sciences of the Jagiellonian University, has been working at the University of Gdańsk since 1972. Doctorate (1981), habilitation (1992), professor's title (1999). Since 1993 she has been leading the Laboratory of Paleoecology and Archaeobotany which she organised within the Department of Plant Ecology at the Faculty of Biology. Her academic interest is focused on research into the past of the natural environment and relations between human societies and the environment from the perspective of hundreds and thousands of years, linking biology with geology and archaeology. For her, one particularly attractive aspect of the research is its interdisciplinary issues and the participation in significant, international projects and scientific programmes (including the International Geological Correlation Programme 158B – a reconstruction of the history of vegetation, climate change and anthropogenic impact in Europe during the last 15,000 years, based on studies of lake and mire sediments; Palaeoclimate and Man; Pollen Monitoring Programme; FOSSILVA (5th PR EU) – research on the formation of geographical ranges and expansion routes of selected species of trees based on palaeobotanical and genetic data; LANDCLIM – research into Holocene changes in Europe's vegetation cover and their potential role in climate change. Some of her team's most important achievements in recent years have been 1) the results of a multi-year archaeobotanical study into the natural history of Gdańsk and the paleobotanical documentation of the history of plant use by the inhabitants of the city and 2) the results of an interdisciplinary project into the history of Białowieża Forest.
She is the mother of Barbara, Łukasz and Maria and has three grandchildren. The fulfilment of a potential hobby (a journey on the trail of the history of the Near East) remains in the realms of fantasy.