Małgorzata Bogunia – my passions are chemistry and theatre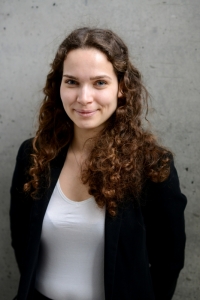 Małgorzata Agata Bogunia was born in Gdańsk in 1994. In 2013 she graduated in biology and chemistry from the 5th Stefan Żeromski Secondary School in Gdańsk. In October of the same year she started a BA Chemistry course at the University of Gdańsk, specialising in Medical Chemistry, which she completed with a BA in December 2015.
Her academic career is closely linked to the Laboratory of Intermolecular Interactions, where she deals with physicochemical research into the hydrogen bond and the interactions of side chains of the amino-acid residues of peptides and proteins.
During her studies she participated in a month-long summer school at the Beijing Institute of Technology. She has also completed a month-long internship at JS Hamilton in Gdynia. For a year she was Vice-head of the Students' Union Council at the Faculty of Chemistry.
In a private capacity, she has been involved with the MOST Culture and Education Association at the Miniatura Theatre for five years, where she performs as part of the Teatr pod Mostem (Theatre under the Bridge). In 2015 her group won an award for the best acting at the International 'Jantarnaja Zaria' Theatre Festival in Klaipeda, Lithuania. She's also active in the "Teatr pod Mostem 2", a group of young people who stage their own productions.
Her passion is theatre in its widest sense, both from the perspective of actress and as audience member. She's a smiley and open person who enjoys working with people and does not shy away from new challenges.