Prof. Andrzej Szmyt – constitutional lawyer and Sejm expert
Faculty of Law and Administration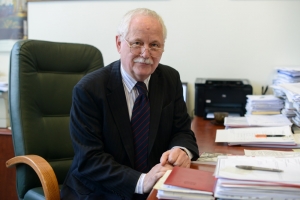 Andrzej Szmyt (born 27 February 1950 in Elbląg) – Polish constitutional lawyer, professor of law, between 1996-2002 Dean of the Faculty of Law and Administration of the University of Gdańsk.
He graduated from Law at the Nicolaus Copernicus University in Toruń in 1972. Between 1972-1974 he completed his legal practice and became an assistant public prosecutor. He is a graduate of the Postgraduate Studium of Legislative Issues at the University of Warsaw (1976-1978). In 1983 he defended his doctoral dissertation entitled The Creation of a Legal Act in the Polish People's Republic: Single Case Study (promotor Prof. Andrzej Gwiżdż). He received his PhD with habilitation in Juridical Sciences in 1993 on the basis of his academic achievements and a dissertation entitled The Making of Legal Acts in the Federal Republic of Germany: Procedural and Organisational Solutions in Constitutional Law. In 1994 he became a legislation expert at the Bureau of Studies and Expertise (currently the Sejm's Bureau of Research) at the Chancellery of the Sejm.
Between 1992-2005 he was Local Government's Citizen Advocate at the City of Gdynia Council. Between 1993-1996 he was Vice-Dean and later Dean of the UG's Faculty of Law and Administration (1996-2002). He is Head of the Department of Constitutional Law and Political Institutions at the Faculty. For 23 years, until recently, he had been a member of the Editorial Committee of the bi-monthly Przegląd Sejmowy (Sejm Review) published by the Chancellery of the Polish Sejm. He is Editor-in-Chief of the periodical Gdańskie Studia Prawnicze (Gdańsk Law Studies). Between 2002-2006, he held the position of President of the Polish Constitutional Law Society. On 19 February 2014 he received the title of Professor of Juridical Sciences. He is author of several hundred publications. Since 2011 member of the Committee of Juridical Sciences of the Polish Academy of Sciences.
Privately, he has been married for 44 years, is the father of two daughters (also lawyers) and grandfather of two grandchildren. As he says himself, he is an art enthusiast, especially of painting and monuments.