Marta Szaszkiewicz – I have documented over 300 Pomeranian shrines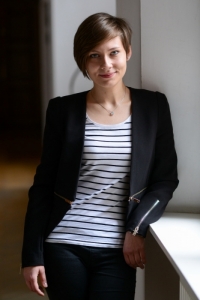 Marta Szaszkiewicz – born on 3 August 1993. She comes from Kętrzyn but wants to link her future with Gdańsk. Currently a first-year MA student of Ethnology at the Faculty of History of the University of Gdańsk. In 2015 she completed her BA studies with the highest grade and a thesis entitled Wayside Shrines in Pomerania: An Ethnographic Description.
She now works at the National Museum in Gdańsk as assistant to the coordinator of the "Ostańce Próśb" project. Marta conducts ethnographic research in Pomerania, is responsible for the promotion and image of the project and the recording of documentary videos in the region of Pomerania. The project's aim is the ethnographic documentation of selected religious buildings from Poland, Norway and Iceland and spreading knowledge about them. So far the organisers have managed to document over 2,500 shrines and crosses in Pomerania, 29 stave churches in Norway and 12 farm churches in Iceland. She has also published an article in a volume devoted to Pomeranian shrines. The publication, which collects articles by researchers from academic centres in Poznań, Gdańsk, Toruń and Lublin, has been edited by Prof. Katarzyna Marciniak from the Institute of Ethnology and Cultural Anthropology of the Adam Mickiewicz University in Poznań.
From the beginning of her studies, Marta has been involved in student organisations. Between 2012-2014 she was a member of the UG's Independent Students' Association (NSZ). She became a coordinator of the "25th Anniversary of May Strikes at the University of Gdańsk" project and a regional coordinator of the "Nic o nas bez nas" project. In 2013 she served the function of Secretary of the NZS UG's Audit Committee.
Since 2013 she has been active in the UG's Ethnology Scientific Circle and was its head for the academic year 2014/2015. During her term the circle prepared a number of projects, including "Paths of Modern Anthropology" and two seasons of the Anthropological Competition aimed at pupils of upper secondary schools from the Pomeranian and Warmian-Masurian Voivodeships. The Scientific Circle also began cooperation with the Association of Friends of Vilnius and the Vilnius Region which resulted in a project partially funded by the City of Gdańsk and entitled "Poles from the Vilnius Region – Past and Present Homeland". As part of the projects, the organisers put on an exhibition of photos "From Vilnius to Gdańsk" and a scientific conference which drew together speakers from Warsaw, Vilnius, Gdańsk, Poznań and Wrocław.
Marta is also involved in the initiative prepared by the Faculty of History and the Association of Friends of Vilnius and the Vilnius Region and is currently working on another project entitled "Interplay of Cultures: Poland and Lithuania".
She is also involved in obtaining grants from grant competitions for various undertakings, a skill she combines with organising projects. As she herself says, such an activity takes up a great deal of time but brings an enormous satisfaction and self-fulfilment.
In her free time Marta Szaszkiewicz plays basketball, runs and reads books. She loves good cinema and spends her free weekends playing board games with her friends. She has also practised table tennis. Thanks to her good memory, she has taken part in numerous poetry recital competitions. She is interested in new media, advertising and film.