Kontakt
Telefon: + 48 58 523 37 53
Room number: 99
Kontakt przez sekretariat
Telefon do sekretariatu:
58 523 3740
Nr pokoju: 53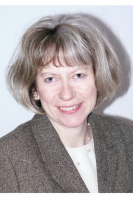 Stanowiska zajmowane w jednostkach
Post-doctoral fellow
Źródło danych:
Skład Osobowy, Panel Nauczyciela, Fast
Biografia i osiągnięcia
Profil naukowy
Biografia:
Studia ukończone na Wydziale Nauk Humanistycznych Katolickiego Uniwersytetu Lubelskiego. Od 2002 roku jest adiunktem w Instytucie Historii Sztuki Uniwersytetu Gdańskiego. Ponadto na stanowisku kustosza dyplomowanego pracuje w gdańskim Muzeum Narodowym, prowadząc Pracownię Malarstwa Europejskiego.
Członkostwo w organizacjach i towarzystwach naukowych:
Członek Stowarzyszenia Historyków Sztuki, Muzealników Polskich oraz CODART International Council for Curators of Dutch and Flemish Art.
Wyróżnienia i nagrody:
Stypendystka Österreichische Bundesministerium für Bildung, Wissenschaft und Kultur. Zajmuje się teorią i historią sztuki okresu nowożytnego.
Zainteresowania badawcze:
Ikonografia sztuki późnośredniowiecznej i nowożytnej; historia muzealnictwa i kolekcjonerstwa; historia teorii i historiografii sztuki od antyku po XVIII wiek; sztuka i kultura Niderlandów XV-XVI w., Holandii w XVII wieku oraz Niemiec XV-XVIII w.
Last modified:
2020, May 14 - 11:03am
Post date:
2013, July 11 - 3:00pm
---
–
Dane pobrane z Portalu Nauczyciela