Kontakt
Telefon: 48 58 523 37 16
Room number: 21
Kontakt przez sekretariat
Telefon do sekretariatu:
58 523 3710
Nr pokoju: 14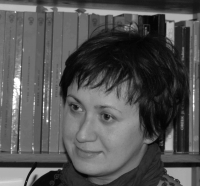 Stanowiska zajmowane w jednostkach
Post-doctoral fellow
Źródło danych:
Skład Osobowy
Biografia i osiągnięcia
Profil naukowy
Biografia:
1993-1998 studia wyższe na kierunku archeologia na Uniwersytecie Łódzkim, zakończone pracą magisterską pt.: "Podwójne pochówki ciałopalne w kulturze przeworskiej", przygotowywanej pod kierunkiem prof. dr hab. M. Mączyńskiej
1998-2000 studia doktoranckie w Instytucie Archeologii Uniwersytetu Łódzkiego
Członkostwo w organizacjach i towarzystwach naukowych:
Członek Fundacja Monumenta Archaeologica Barbarica
Zainteresowania badawcze
Publikacje
Młodszy okres przedrzymski, okres wpływów rzymskich, archeologia Pomorza, ceramika wczesnej epoki żelaza, kultura oksywska, kultura wielbarska, kultura jastorfska, kultura przeworska, historia archeologii
Research interests: Pre-Roman and Roman Iron Age, Archeology of Pomerania, Pottery of Early Iron Age, Oksywie Culture, Wielbark Culture, Jastorf Culture, Przeworsk Culture, History of Archaeology
Wybrane publikacje:
Wybrane publikacje/ selected publications:
2006 Pęsetka brązowa z cmentarzyska kultury oksywskiej w Wyczechowie, pow. kartuski, Wiadomości Archeologiczne, t. LVIII, s. 127-143.
2008 Uwagi na temat powiązań kultury oksywskiej i kultury wielbarskiej w świetle badań ceramiki grobowej, [w:] M. Fudziński, H. Paner (red.), Nowe materiały i interpretacje. Stan dyskusji na temat kultury wielbarskiej, Gdańsk 2007, s. 109-137.
2010 z: Ruta, A., Materiały kultury wielbarskiej w Krzykosach, woj. pomorskie, [w:] A. Urbaniak et alli (red.) Terra Barbarica. Studia ofiarowane Magdalenie Mączyńskiej w 65. rocznicę urodzin, Łódź – Warszawa, s. 457-473.
2011 Ceramika naczyniowa kultury oksywskiej, Gdańsk, ss. 320.
2012 Naczynia zdobione wątkiem bogato zróżnicowanym w kulturze oksywskiej, Gdańskie Studia Archeologiczne, nr 2, s. 65-96.
Last modified:
2019, December 5 - 1:04pm
Post date:
2013, July 11 - 3:00pm
---
–
Dane pobrane z Portalu Nauczyciela